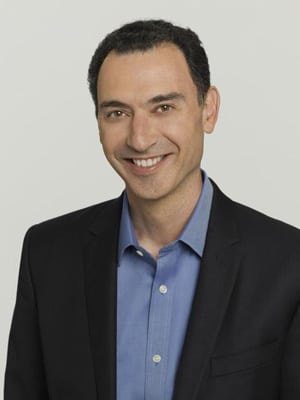 ABC formally announced its new lineup of shows on Tuesday at an upfront presentation held at New York City's Avery Fisher Hall, and Paul Lee, the ABC Entertainment Group president, called series like the network's new Steven Spielberg-produced drama, "Lucky 7," soaps! And he revealed much more about the new shows in a special press conference in which Soap Opera Network took part.
"First of all, we're going to be bringing what's become our hallmark, which is a combination of stability and out and out ambition," the exec says of the new fall lineup, which you can view here. "We're leaving in tact our signature series that are anchoring our key nights: 'Castle,' 'Grey's Anatomy,' 'The Middle,' 'Modern Family,' 'Scandal,' 'Once Upon a Time,' all of them are staying in tact."
But amongst those popular staples, the network is bringing in a slew of new programming that Lee believes will further help define ABC. "We really believe we're building this smart, strong, sophisticated, emotional brand, and what we believe this year is we're starting to add some other pieces," he explains. "We really feel we're building it in absolutely the right direction."
As for the soapiest of the network's new additions, the exec says Sunday night's "Betrayal" — which stars Wendy Moniz (ex-Dinah Marler, "Guiding Light;" ex-Mayor Finn, "One Life to Live") is "very sexy, beautifully written, very emotional, very sophisticated," while the mid-season-slated "Resurrection" is "a really extraordinary piece of filmmaking" and "incredibly emotional."
When it comes to leading Thursday night's "Grey's Anatomy" and "Scandal," with the new "Once Upon a Time in Wonderland," Lee says it was a no-brainer. "We've built a night of women's empowerment: These are powerfully, beautifully made women empowerment shows, so I think that flows particularly good," he states, adding that he can't wait for viewers to see the "Once Upon a Time" spin-off. "It's fantastic."
But perhaps what the exec is most excited about is drawing in a whole new audience via "Marvel's Agents of S.H.I.E.L.D.," penned by "The Avengers" director, Joss Whedon. "Joss Whedon… made 'Buffy The Vampire Slayer,'" Lee notes. "He knows how to create not just great television, but great television with great relationships at the heart of it. So not only will it have great relationships and humor, but also it has the promise of the Marvel franchise — and that brings a sense of wonder and excitement and adventure."
For more a more on ABC's new programming, be sure to check out our in-depth descriptions here.