Today, July 19, marks the beginning of a new era on NBC's "Days of our Lives."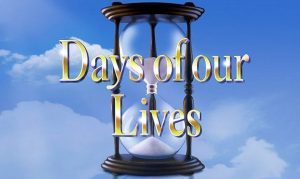 Spearheaded by Daytime Emmy Award winning writer Ron Carlivati ("General Hospital," "One Life to Live"), the people of Salem, USA are in for some new tales to be spun, new relationships to be developed and frequent appearances by veteran talent now that a new Sheriff's in the writer's room.
"Ron has what it takes to bring 'DAYS' back to its glory," wrote former head writer Sheri Anderson, who has returned to the soap under Carlivati's regime as a creative consultant. "Stay tuned & let all your friends know that 'DAYS,' once again, is THE show to watch!"
Carlivati began writing for the soap earlier this year with his first submitted script available to producers at the beginning of February, with filming commencing two weeks later.
Now six months later, in an interview with Soap Opera Digest, on newsstands now, Carlivati made it clear that he plans to concentrate on what's working, and that means more of your favorite characters.
"Having grown up on soaps, I often gravitated to the characters that had been on for a long time, so what's great about 'DAYS' is, there's a deep bench of characters like that with Steve and Kayla and Hope and John and Marlena and the DiMeras and Stefano, who sadly has passed away, but you still have Andre and his family, and you have Victor Kiriakis [John Aniston]," said Carlivati.
The writer also revealed that vastly under utilized actor Bryan Dattilo (Lucas Roberts) will once again be a heavily featured player in the weeks and months ahead. "Lucas is getting a big story and I am looking forward to it," stated Carlivati, who added, "You have an embarrassment of riches."
Just like he did in the month leading to today's inaugural episode, Carlivati released a golden nugget to fans on Twitter last week, revealing a snippet of a scene involving Lucas, Adrienne (Judi Evans) and Justin (Wally Kurth):
One week from today… #days #dool #youneverforgetyourfirstlove pic.twitter.com/20h2DJly8T

— Ron Carlivati (@carlivatiron) July 12, 2017
As for what's going to happen with the upcoming returns of Alison Sweeney, Eileen Davidson and Chandler Massey to the canvas, and much more, you'll just have to pick up your own copy of Digest to find out!
"Days of our Lives" airs Weekdays on NBC.