After what must have been a very successful marathon of classic episodes of ABC's "General Hospital" this past weekend, SOAPnet has announced that it plans to re-run the marathon again this weekend beginning Friday, April 5 at 10:00 PM ET/PT and running through Monday, April 8 at 12:00 AM ET/PT (Sunday night/Monday morning).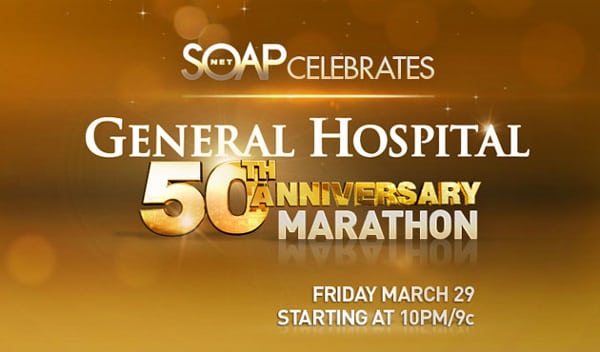 A SOAPnet representative has confirmed to Soap Opera Network that the episodes will air in the exact order in which they aired this past weekend. For a breakdown of the episodes and their airing times, click here.
via Press Release
SOAPNET CONTINUES "GENERAL HOSPITAL'S" ANNIVERSARY WEEK 

WITH A SPECIAL ENCORE PRESENTATION OF THE 

50 HOUR MARATHON, BEGINNING FRIDAY, APRIL 5 AT 10PM ET/PT 

(April 1, 2013, Burbank, CA) – In honor of "General Hospital's" 50th anniversary week, SOAPnet will encore its 50-hour marathon of classic episodes starting Friday, April 5th at 10pm ET/PT and running through Monday, April 8 at 12:00am ET/PT (Sunday night/Monday morning). The marathon kicks off with the very first episode from 1963, and will include shows from every decade. For a complete list of episodes, check out www.soapnet.com.

The marathon will cover all your favorite characters, couples and storylines with such themes as romance (Luke & Laura's wedding, Frisco & Felicia's wedding, Luke & Laura's dance at Wyndham's, Lucky & Liz's first kiss), heartbreak (Stone dies, Sonny leaves Brenda at the altar, BJ dies/Maxie's heart transplant), action-adventure (Ice Princess, the Hostage Crisis, the Hotel Fire,) and shocking bombshells (Elizabeth finds Carly in the panic room, AJ discovers he's Michael's father, Jason's car accident) plus many more surprises and appearances by fan favorites (Elizabeth Taylor as Helena Cassadine, John Stamos as Blackie, Ricky Martin as Miguel, Rick Springfield as Noah). It is an extraordinary marathon, 50 years in the making.

"General Hospital," the most honored show of the 2012 Daytime Entertainment Emmy Awards, is celebrating its golden anniversary today, April 1, 2013. After 50 historic years on ABC, "General Hospital" is the longest running American soap opera currently in production and the third longest-running drama in American television history. "General Hospital" was created by Frank and Doris Hursley. Frank Valentini is the executive producer. Ron Carlivati is the head writer. "General Hospital" airs 2:00-3:00 p.m. ET; 1:00 p.m. PT/CT on the ABC Television Network and 9:00PM ET/PT-with an encore at 12:00AM ET/PT-on SOAPnet.

SOAPnet owns the world of character-driven soapy drama. The network features same-day episodes of popular daytime dramas "Days of our Lives," "General Hospital" and "The Young and the Restless" as well as classic episodes of "All My Children" and "One Life to Live." Plus favorite primetime series "Gilmore Girls," "One Tree Hill," "Veronica Mars," "Brothers & Sisters" and "Beverly Hills 90210." Wrapped in a 24-hour environment, SOAPnet is the one destination for stories focused on real emotions and revealing truths about intriguing yet flawed characters.