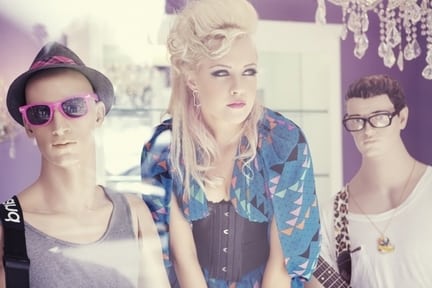 As part of their partnership with Universal Music Group, which allows The OnLine Network (TOLN) to "provide compelling recorded music and songs, and artist cross-promotion and integration, to a powerful new audience," Prospect Park has cast Jessica "Jessie" Malkouti from Jessie and the Toy Boys in a role on "One Life to Live" as, what else, an aspiring musician.
The news was released earlier this afternoon on the official "OLTL" Twitter page, asking fans to "RT to spread the word!" The singer, who is signed with Prospect Park Records, tweeted Monday that she was "Packing for CT… About to film my television acting debut!!"
The twenty-three year Malakouti has had her songs played on MTV's "The Hills" and used in on-air promotions on The CW.  In 2010, she formed the band Jessie and the Toy Boys, featuring mannequins as her band members. Her hit single "Push It," reached #7 on the Billboard dance chart in 2011.  She has also opened for Nicki Minaj and Britney Spears and is currently in the process of writing her debut album.
Kassie DePaiva (Blair) was quick to welcome Malakouti to Llanview, tweeting "I look forward to working with you…." And "OLTL" Associate Producer Jared Kaplan echoed DePaiva's comments, tweeting "Everyone welcome @JessieToyBoys to the cast of One Life to Live! She's pretty awesome."
"One Life to Live" debuts on Hulu, Hulu Plus, and iTunes on Monday, April 29.