Shortly after word broke that Prospect Park had filed a lawsuit against ABC, Inc. over a reported breach by ABC in its licensing agreement with Prospect Park as it relates to "All My Children" and "One Life to Live," Soap Opera Network has learned that one sticking point listed in the lawsuit seems to have been rectified already.
In the lawsuit against ABC, Prospect Park stated, "ABC has breached the License in other ways as well. Among other things, despite repeated requests from Prospect, ABC inexplicably failed and refused to turn over to Prospect's control the URL's onelifetolive.com and allmychildren.com, which URL's are critical elements of the two series acquired by Prospect and to which it has clear contractual rights. This breach has damaged Prospect's ability to inform the public about the shows as anyone going to these URL's would be directed to ABC's general website."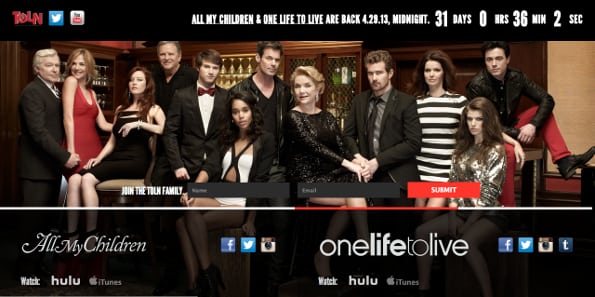 As of this moment fans of "AMC" and "OLTL" who wish to quickly head over to ALLMYCHILDREN.com or ONELIFETOLIVE.com for information on the two soaps will no longer be re-directed to ABC.com/daytime as their landing pages, which effectively informs viewers of what's happening on ABC's current daytime lineup consisting of "General Hospital," "The View" and "The Chew." Instead, visitors are treated to theonlinenetwork.com with its countdown towards the re-launch of the soaps on Hulu, Hulu Plus, iTunes and FX Canada for Canadian viewers.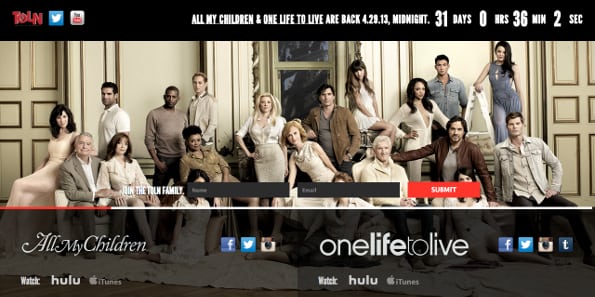 According to WHOIS information, ABC, Inc. remains the registrant for both domains. ONELIFETOLIVE.com is set to expire, pending renewal, on Thursday, November 14, 2014. ALLMYCHILDREN.com is set to expire, pending renewal, on Thursday, March 26, 2015.