Over the years we've found that a number of our readers and community members were interested in topics other than what's happening on their favorite daytime soaps. Therefore, Soap Opera Network is happy to present the first edition of our weekly Daytime Talk/Morning TV Listings. Here you'll find out who will be appearing on some of your favorite talk shows and morning news programs. Listings for "CBS This Morning" and "The Talk" were not available at press time.
Note: All scheduled guest appearances are subject to change.
ELLEN
Monday – Actor Ray Romano ("Parenthood"); The Fisher Family, Ellen's favorite dancer tWITCH; performance by performers from Cirque du Soleil show "IRIS."
Tuesday – "Grey's Anatomy" star Ellen Pompeo stops by; Actor Jason Sudeikis; holiday miracle; R&B superstar Miguel performs his #1 hit "Adorn," from his album "Kaleidoscope Dream."
Wednesday – "The X-Factor" host Khloe Kardashian; Actor Damien Lewis ("Homeland"); Jane Lynch ("Glee") stops by to play a very special game with Ellen.
Thursday – Actress Christina Applegate ("Up All Night"); "The Big Bang Theory's" Kunal Nayyar on playing a brainiac; a performance by "Maroon 5″ with their chart-topping hit, "One More Night."
Friday – Ellen's good friend Wanda Sykes; Actor Kevin Pollak discusses his new book; Drew Carey stops by to celebrate his 1,000th episode of "The Price is Right."
GOOD MORNING AMERICA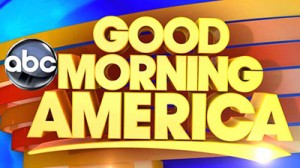 Monday – Iconic designer Jonathan Adler decorates the "GMA" studio, turning it into a surprise wonderland for the holidays; a performance by musician Alicia Keys; inside the "Dancing with the Stars" final rehearsal; a sneak peek at next week's "Revenge."
Tuesday – Legendary Country star Dolly Parton discusses her new book, "Dream More: Celebrate the Dreamer in You," and performs a hit song; football star and former "Dancing with the Stars" champion Donald Driver weighs in on last night's finale; a performance by the Muppets; behind the scenes of TV Land's "Hot in Cleveland."
Wednesday – The "Dancing with the Stars" After Party-"GMA" rolls out the red carpet for the final couples with live in-studio interviews and questions from viewers; the finalists also perform for the audience.
Thursday – "GMA" contributor Tory Johnson with Secret Deals and Steals for viewers; chefs Marcus Samuelson and Tim Love cook a favorite recipe; a sneak peek at next week's "Modern Family"; a performance from Elf the Broadway musical.
Friday – Television host and chef Rachael Ray; wildlife expert Jack Hanna; inside the collaboration between Neiman Marcus and Target; finding unexpected love online.
LIVE! WITH KELLY AND MICHAEL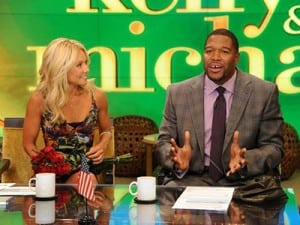 Monday – Comedian Carrot Top; Actor Jack Black; LIVE! kicks off Holiday Gift Guide Week with appearance from Lucky magazine style editor Lori Bergamotto.
Tuesday – Singer-songwriter Bryan Adams performs; Helen Hunt discusses new film "The Sessions"; Holiday Gift Guide with "The Nest's" Carley Roney.
Wednesday – Country music icon Dolly Parton talks about new book; actor Kevin McKidd ("Grey's Anatomy") makes his LIVE! debut; Holiday Gift Guide with Toy Guy Chris Byrne.
Thursday – "The Middle" actress Patricia Heaton talks new holiday-themed film "The Christmas Heart"; actor Scott Speedman ("Last Resort"); Holiday Gift Guide with Men's Health magazine associate editor Clint Carter.
Friday – "30 Rock" star Tracy Morgan; music legend Rod Stewart performs; Holiday Gift Guide wraps up with technology columnist David Pogue.
THE TODAY SHOW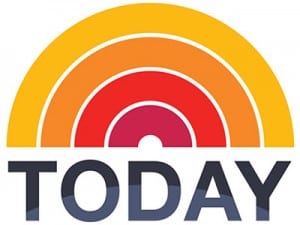 Monday – Rossen Reports. 99% diet. Ray Liotta on Today. Julie Andrews on Today.

(9-10 a.m.): Facts about holiday weight gain. Top gadgets for women. How to escape the holidays debt-free. Celebrity kids look alike fashion.
(10-11 a.m.): Ray Liotta on Today. Il Volo performs live. Debt-proof your holidays and your life. DIY Christmas decorations.

Tuesday – Warren Buffet on Today. The Professionals. Scarlett Johansson talks about her new film, "Hitchcock."

(9-10 a.m.): How to have a healthy holiday season. Gift baskets 101. Today's Cooking.
(10-11 a.m.): Phillip Phillips performs live on Today. Multi-generational trips. Chocolate round-up. Toy Drive.

Wednesday – Dr. Phil talks about his book, "Life Code." The best day of the week to buy. The growing trend of sow foods. "The Voice's" Chris Mann on Today.

(9-10 a.m.): Steals and deals. Repeat after me with The Skimm. Turning fashion into décor. Diet dilemmas.
(10-11 a.m.): Meredith Vieira and Richard Cohen on Today. Caviar and Champagne. Chris Mann performs on Today. Toy drive.

Thursday – Today's Doppelgangers. Paul Rudd talks on Today. Top Baby Names of 2012. Rod Stewart performs. Bow to wow.

(9-10 a.m.): The Professionals. Wedding dresses to wow you. Healthier homes. Cooking with Chef Rui Correia.
(10-11 a.m.): Ed Burns on Today. Ambush makeovers. Rod Stewart performs on Today. Toy drive.

Friday – Chain restaurant dinner for families. Spanning the world.

(9-10 a.m.): The germs lurking in your mall. What real estate you can get for your money. Cooking with Anne Burrell.
(10-11 a.m.): Rod Stewart on Today. Why do kids lie? Maxim's wacky holiday gift guide. Holiday cheer in small bites with Peter Callahan.
THE VIEW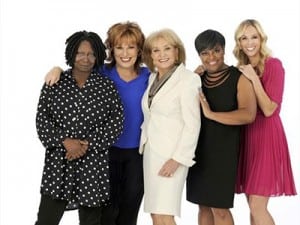 Monday – Actress Angie Harmon ('Rizzoli & Isles"); actress Wendie Malick ("Hot in Cleveland").
Tuesday – Joan Collins and Fran Drescher ("Happily Divorced"); Peter Billingsley and the cast of Broadway's "A Christmas Story" perform.
Wednesday – Betty White ("Hot in Cleveland"); "Reality Show Roundup" with a performance from the winners and runner-ups from "Dancing with the Stars: All Stars."
Thursday – Actor Jim Belushi; Marc Summers with holiday treats from around the world; Dave Annable (ABC's "666 Park Avenue").
Friday – Actress Beth Behrs ("2 Broke Girls"); holiday toy ideas; Christine Ha ("The Blind Chef").