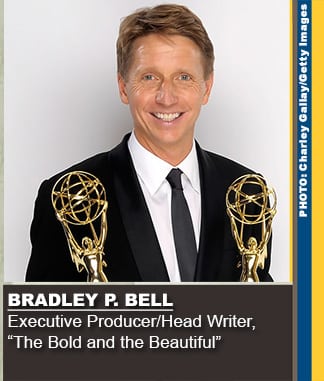 In an exclusive interview with TV Guide's Michael Logan, Bradley Bell, Executive Producer and Head Writer of "The Bold and the Beautiful," has revealed that he plans on recasting the role of Ridge Forrester now that Ronn Moss is departing the series after filming his final scenes later today.
Bell, who only found out that Moss opted not to renew his contract on Thursday, August 9, tells Logan that losing Moss is a "huge" deal. Ultimately he's "very sad but also very grateful for the 25 years we did have with him. Ronn is a wonderful man and a great actor and he'll be sorely missed."
For those wondering how Bell plans to write the character off the canvas, albeit temporarily, Bell says, "I went ahead and wrote a wedding for Ridge and Brooke [Katherine Kelly Lang] — a real retrospective sort of wedding that honors the characters' 25-year relationship — and then I have them take off on a honeymoon. I've been in this business long enough to know I have to protect my show. The worst thing happened but at least I was prepared." Images of what looked to be a supposed wedding popped up on Facebook on Saturday, August 11, just moments before news broke of Moss's departure from "B&B."
"Ridge will not be dead or presumed dead. He will just not be in the picture. I don't want to do a presumed death because I don't want the story that follows to be all about Ridge. This will be a Brooke story," says Bell. "Ridge is a pivotal part of the show and he will be back in a matter of time…and probably not all that much time. I will continue writing for the character. I'm looking at this in two phases, really. There will be a period of time without Ridge, which is where some new, interesting avenues for Brooke will come into play. But at some point it will be necessary for Ridge to return to the show. Who will be playing the role at that point remains to be seen."
According to Bell, Moss' last airdate is scheduled for Friday, September 14.
For the full Bell interview, head on over to TV Guide's website.