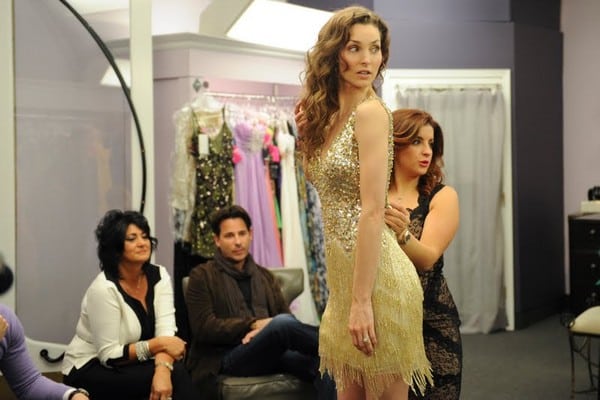 (SoapOperaNetwork.com) — Noting the nations thirst for New Jersey based reality entertainment, in the summer of 2010, the cable network Oxygen jumped into the fray with "Jersey Couture." Except for being based in New Jersey, viewers will not see much similarities between this series and the eccentricities of Bravo's "Real Housewives of New Jersey" and MTV's "Jersey Shore." "Jersey Couture" rather takes a page from TLC's "Say Yes to the Dress." Both programs share the same producers. This reality series follows the fun and drama surrounding the Scali family (and their customers) as they run Diane & Co., one of New Jersey's premiere dress boutiques.
When the series debuts its second season, Diane Scali and daytime fans will be excited to see a familiar face or two walk into the New Jersey boutique. Former "All My Children" star Alicia Minshew, who played Kendall Hart on the cancelled serial from 2002 to 2011, stops by Diane & Co. looking for some red-carpet looks. Minshew brings along former co-star Ricky Paull Goldin (who has starred on"Another World," "Guiding Light" and "AMC") to assist on her mission.
The following is the full synopsis of the two half-hour installments marking the season premiere of "Jersey Couture" airing on Tuesday, February 7 on Oxygen:
10:00 P.M. ET/PT (Episode Title: Say Yes to Excess): Three clients come to Diane & Co. to look for the perfect dress for their individual events. Chelsea wants to be the belle of the ball at the Marine Corps Ball, Tenin is going to her album release party and wants all eyes on her when she walks into the room and Alexandra – who hasn't worn a dress in 20 years – needs the perfect number for her book launch party in Texas. If that wasn't enough to keep the Scali ladies busy, Kimberly is a few weeks away from having a baby, and she's still working in heels. She is ready for a break, but Christina doesn't want to be stuck doing all the work. The sisters decide to try to talk Diane into letting them hire an assistant. Will Diane go for it?
10:30 P.M. ET/PT (Episode Title: All My Dresses): Diane is in for the surprise of a lifetime when one of her favorite "All My Children" actors, Alicia Minshew, comes in to the store looking for dresses for her red carpet events. Is Alicia ready for red carpet glam Jersey style? Later, a pageant princess battles with her mom over her pricey dream dress. How will the Scalis handle the dresses and the drama this season?
Watch a supertease for Season Two of "Jersey Couture":