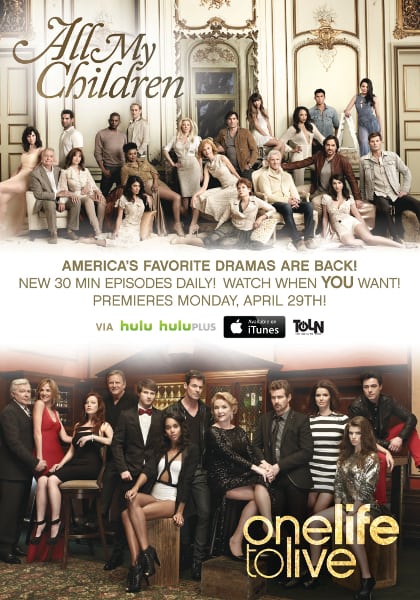 On the back cover of the newest double issue edition of TV Guide Magazine (dated April 22-May 5, 2013), those individuals who have yet to discover that "All My Children" and "One Life to Live" are now back in session will be in for a surprise when they see The OnLine Network's advertisement in the magazine proclaiming that "America's Favorite Dramas" premiere with new 30 minute daily episodes that can be viewed whenever they want, however they want and wherever they want via Hulu, Hulu Plus and iTunes beginning Monday, April 29.
In addition to the back cover advertisement, the magazine places "Dallas" and "Dawson's Creek" in its "60 Greatest Title Songs of All Time" list, while Michael Logan has an exclusive interview with "AMC" and "OLTL" creator and Prospect Park consultant, Agnes Nixon, who says, "Soap operas made history by being the first shows to move from radio to TV. Now they're the first to move from TV to the internet." Nixon adds, "I'm thrilled to tears that I'm still here to witness this. Somebody had to make the first move. I'm glad it was us." Also interviewed in the Logan piece were "AMC's" Thorsten Kaye (Zach Slater), "OLTL" head writer Thom Racina and actress Erika Slezak (Victoria Lord).
"This is an opportunity to fix what went wrong at ABC," said Kaye on rebooting "AMC" for the web. "There were some really funky stories being told at the end of our run. We can use a little distance from that."
For more from the actor and what Racina and Slezak have to say about rebooting "OLTL," pick up your copy of TV Guide Magazine on newsstands now.