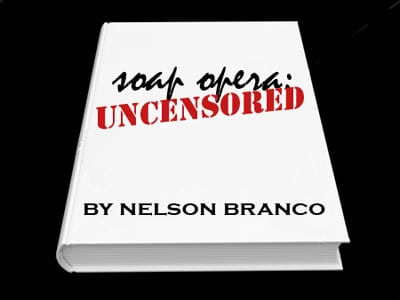 Nelson Branco, best known as the writer of the popular Suds Report column for website TV Guide Canada and for his contributions to magazine Hello! Canada is back! This time he's Uncensored.
With Soap Opera: Uncensored, fans of Branco will notice the same writing style from his Suds Report, which includes an interview, translated comments on daytime moves, a breakdown of what's happening on each soap and his uber-popular Blind Items.
For just $1.99 per issue, readers will receive 60 pages of news, notes and even an interview from "Venice: The Series" star Crystal Chappell where she explains why her online web soap is recasting roles played by Gina Tognoni (ex-Kelly Cramer, "One Life to Live") and Wes Ramsey (ex-Sam Spencer, "Guiding Light").
Snippet from Chappell Interview…
Despite winning an Emmy for Venice, Chappell still has to deal with the cruel realities of show business. But hey, what's a soap without cast changes? My boyfriend Eric Martsolf has joined the Sapphic web serial as a recast. The 'DAYS' hunk will be replacing Wes Ramsey, who is currently in New York City shooting 'The Playboy Club.' "Eric's wonderful in this," compliments Chappell. "Eric's always been supportive of the show. I had to shoot this character with or without Wes, so I sent the script to Eric, and luckily he agreed to do it. It was so much fun to see actors I love and respect in different parts. And you can talk to Eric about this — but this was a part he was born to play!" Also, don't expect Gina Tognoni back as Sami. "She can't do it," sighs Chappell. "So I have to recast the role. I have someone in mind, but I can't say who."
Soap Opera: Uncernsored:
Inside the Issue
INSIDE: Crystal Chappell Exclusive – Life After DAYS! Also: Why Venice is recasting Gina Tognoni and Wes Ramsey! Plus: Molly Burnett and Christian LeBlanc join Gina and Company!
Exclusive: Major Daytime Emmy Award changes!
Melody Thomas Scott VS. Sony: What really happened!
Is James Scott leaving DAYS?
Alleged Stalker Shocker Involving — Wait For It — John Driscoll!
Andrea Evans's Cancer Victory!
Inside Dirty Soap! Is Eden Riegel AMC-bound?
The truth behind Megan Ward's GH firing!
Drama at THE CHEW!
Y&R's Christel Khalil divorce drama!
More turmoil at THE TALK?
Four Decades Later: DAYS Chief Ken Corday finally gets a clue!
Last week's Soap Reviews; Next Week's Preview Cheat Sheet! And every week: Blind Items!
If that wasn't enough to get you interested, here are this weeks blind items from Soap Opera: Uncensored (as written by Nelson Branco):
—Which boring character is headed back to his old stomping grounds?
—Which super villainess is returning to her old show with a new-ish face?
—Expect some major firings very soon!
—Which despised star is cleaning up his or her a-hole act? But co-stars are dubious.
–Which soap actress in major trouble physically, mentally, and professionally?
—–Which new actor is as "gay as a handbag," says one co-star, but the acting novice thinks he's fooling people into thinking he's straight?
To order your copy of the first edition of Soap Opera: Uncensored, click here.