Friday, August 21, 2009 8:00 AM ET | By Angela Rosa
---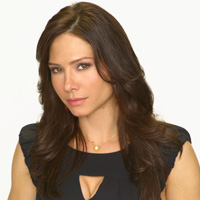 (SoapOperaNetwork.com) — The next step forward.
THIS WEEK ON: GENERAL HOSPITAL
Jason plants a kiss on a surprised Sam; elsewhere, Nikolas plants his lips on Elizabeth on Monday, August 24. Elizabeth pushes Nikolas away. A cunning Nikolas convinces Rebecca that he has forgiven her and wants to pick up from where they left off on Tuesday, August 25. Nikolas wants Rebecca to pay. Jason and Sam are unsure of where their relationship stands after making love. On Wednesday, August 26, the self-conscious duo breaks the ice by giving into their feelings once again. Spinelli tells a stunned Maxie that they should remain celibate until their wedding night. Dominic continues to flirt with Lulu. Carly confronts Kiefer. Andrea listens in on Robin's progress report in proving her guilt on Thursday, August 27. Patrick is worried about Robin's safety.
The Inside Story: Going Home
Kiefer's rejection makes Kristina resolute to go home and accept her punishment. Michael maintains that there's still a significant chance he was the one who caused Claudia's accident despite Kristina's confession on Wednesday, August 26. Jax presses Spinelli to give him Kristina and Michael's location. Michael steals a watch from a tourist, hoping to hock it and get enough money to buy Kristina a plane ticket home. Michael's plan hits a major snag when the goon realizes he was robbed on Thursday, August 27. Jason and Sam find Michael and Kristina in the nick of time. Claudia overhears Sonny and Alexis discussing Kristina's culpability in her accident on Friday, August 28. Michael refuses to return home. A stunned Kristina learns that Alexis has taken the fall for her.
A Closer Look: Big Decisions
Jax confronts Olivia with the knowledge that Dominic is Olivia and Sonny's son – Dante. Jax can't deny Olivia's assertion that he loves the ides of Dominic taking Sonny down on Monday, August 24. Carly is surprised by Jax's sudden acceptance of Dominic. Claudia responds to Sonny's resolution to make their marriage work with the proposition that they make another child. Claudia and Sonny connection grows as the moll bonds with Morgan on Tuesday, August 25. Sonny assures Claudia that he's no longer going to pursue Olivia, which a pleased Dominic overhears. Olivia can't resist Johnny. Sonny walks in on Johnny and Claudia in a heated argument on Thursday, August 27. Dominic steals incriminating evidence against Sonny.

General Hospital News and Headlines:
GH ALERTS: WEEK OF AUGUST 31, 2009
"General Hospital" airs Weekdays on ABC. Weeknights on SOAPnet. Check local listings.
---