Friday, July 17, 2009 8:00 AM ET | By Angela Rosa
---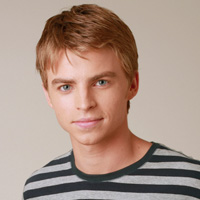 (SoapOperaNetwork.com) — Is it worth saving me?
THIS WEEK ON: GENERAL HOSPITAL
Flanked by Max and Milo, Sonny confronts the country club president about his treatment of Michael on Monday, July 20. A beautiful engagement ring tempts Maxie to give Spinelli the answer he wants on Tuesday, July 21. Sonny sends Jason to deliver an apology to Olivia, who is in the middle of a conversation with Dominic when he arrives on Wednesday, July 22. Olivia denies Dominic's observation about her and Sonny on Thursday, July 23. Dominic tells his pissed off mother that his employer is none other than Sonny Corinthos. Robin's spill puts Patrick out of commission. Jax rushes Carly to the hospital after she faints where they learn that the slightest stress could cause Carly to have a fatal stroke on Friday, July 24. Jax doesn't tell Carly about the situation with Michael.
The Inside Story: Crime & Consequence
Claudia rushes home to share the paternity results with Sonny but gets into a horrific accident trying to avoid a collision with a reckless driver. Carly pulls Claudia from the wreckage. After finding Olivia and Sonny in a lip-lock on Tuesday, July 21, a disgusted Johnny informs a disbelieving Sonny that the paternity test confirmed that he's the father of Claudia's baby. Sonny realizes that Johnny was telling the truth as he sees Claudia being wheeled in to the hospital E.R. A guilt-stricken Sonny stays by Claudia's side at the hospital. Robin and Patrick inform Sonny that Claudia has a brain injury that needs immediate treatment. Claudia refuses medication after learning it would most likely kill her unborn child and opts to instead go with risky brain surgery. An upset Johnny confronts Claudia about her decision. With Patrick unable to operate, Matt is put on the hot-seat. Johnny issues Matt a lethal warning. Matt's procedure is a success. Claudia and Johnny's joy turns into heartbreak when Kelly arrives with devastating news on Friday, July 24.
A hurt Kristina, an angry Michael and a tipsy Alexis take to the road where tragedy erupts on Monday, July 20. Michael tells Jason he thinks he cause Claudia's accident. Jason tries to erase all links to Michael and Claudia's accident. Kristina fears she caused Claudia's accident. Sam notices Kristina's unease. Jason and Sam share their suspicions. Sam learns that Alexis was also on the road at the time of Claudia's accident when her mother comes to her for help in getting rid of the footage of her and Andrea's latest confrontation. Michael makes a confession to Kristina on Wednesday, July 22. Kristina tries to make Michael see that someone else may have caused Claudia's accident. Kristina overhears Andrea detailing the circumstances that led to Alexis most likely causing Claudia's accident. Diane asks Alexis if there's any possibility that she may have caused the accident. Jason races to the police station on Thursday, July 23, after Morgan tells him that Michael's gone to confess to causing the accident. Despite Jason and Diane's protest, Mac arrests Michael after he makes a full confession. Kristina accuses Alexis of letting Michael take the fall for her wrong-doing. Sam gently confronts Kristina about her own culpability.
General Hospital News and Headlines:
GH ALERTS: WEEK OF JULY 27, 2009
"General Hospital" airs Weekdays on ABC. Weeknights on SOAPnet. Check local listings.
---