Friday, April 24, 2009 8:00 AM ET |
By Scotty Gore
---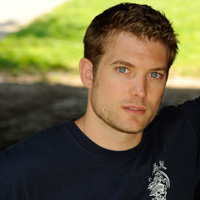 (SoapOperaNetwork.com) — No one knows what goes on behind closed doors.
THIS WEEK ON: ONE LIFE TO LIVE
Langston and Markko decide to their lose their virginity on prom night. Dorian confides to Ray that she has a bad side, following a run-in with Viki and Charlie at the Palace. However, the admission does not discourage Mr. Montez. Bo and Nora are filled with remorse as they watch Matthew return to school for the time since the accident. Concerned for their son, they hide out in Bo's car as Matthew walks through the front door of Llanview High on Thursday, April 30. While in the car, Bo and Nora grow even closer, but later agree to let the past stay buried. At the same time, Matthew lashes out at Destiny when she tells him the real reason that Becca is suddenly his friend. However, he soon sees the error of his ways. And Marcie lends Bo and Nora some good advice concerning Matthew.
The Inside Story: The Mind is Always the First to Go
Marty promises Cole that she will soon return to him. Téa gives Todd the cold shoulder, and goes on a date with RJ on Tuesday, April 28. Not to be outdone, Todd follows them and soon makes Téa jealous by openly flirting with another woman. Following her date, Téa finds Todd waiting for her when she returns home. The following day, as they prepare to face off in court, Todd and Téa give into their animal lust once more. Later, Dorian is horrified when Todd announces he has been awarded custody and demands to see his children. Meanwhile, John and Marty arrive at in Rochester, New York, where he explains to her that the only logical suspect left is Powell Lord III. They soon formulate a plan to pass themselves off as Kevin and Jessica in order to pay Powell a visit at the Sitwell Institute for the criminally insane. On Thursday, April 30, Powell appears not to remember Marty, while John makes a shocking find in his file. Reassuring Marty that she is no murderer, John tries to figure out who could be visiting Powell and using Marty's name. John begins to get an idea after calling Viki for insight into her cousin's state of mind. Powell gets yet another visitor, as Marty and John learn that their motel room has only one bed. Meanwhile, Starr fumes with anger after finding more pills in Cole's jacket. Making an emotional confession, a guilty Cole admits to Starr that he can't stop doing drugs. On Tuesday, April 28, Cole tosses the pills into the river, while Starr promises to help him. Hoping to aid him in defeating his addiction, Starr sneaks Cole into La Boulaie. Later, Nora continues to argue with Rachel over her handling of Cole's case, which Matthew admits he has no issues with. Starr begins to panic on Thursday, April 30 when Todd demands she move back to his house with him and her brothers. Forced to leave Cole in his hour of need, Starr promises him that she will return soon. And on Friday, May 1, Cole begins to suffer from withdrawal.

A Closer Look: Secret Love
Stacy rebuffs Schuyler's claims, and finds a cheerleader in Rex. Nevertheless, Stacy soon finds herself homeless after Schuyler kicks her out. Gigi encourages Brody to confide in a very understanding Jessica. Rex thinks Gigi has been intimate with Brody again. Meanwhile, Jessica accepts Brody's apology and the two lock lips. Rex tells Gigi that Shane deserves to know the truth. Roxy nonchalantly pulls the plug on Rex's father's life support system on Monday, April 27, and later receives word that he passed away. However, the old coot remains very much alive. Jessica and Brody take their relationship to a whole new level on Tuesday, April 28, and promise to keep their budding romance a secret. Gigi considers confessing to Rex, but a passing conversation with a priest reminds her of the pact she made with God. Shane learns the truth about his parents on Tuesday, April 28. And on Friday, May 1, Viki walks in on Brody and Jessica, only to find them kissing.
One Life to Live News and Headlines
SON ALERTS: WEEK OF MAY 4, 2009
Monday: Blair is released from the hospital and ready to face off against Todd.

Starr finds Cole in a rough state.

John and Marty are affected by their close quarters.
Tuesday: Cole makes a confession to Rachel.

Cristian and Layla paint.

Schuyler vows to uncover Stacy's evil plot.

Starr and Schuyler make amends.
Wednesday: Gigi is shattered when Rex brushes her off.

Starr and Cole receive interesting news about their baby.

Lola is up to no good.

Stan and Stacy have a debt to settle.
Thursday: John bites off more than he can chew when he visits Powell, who plots his next move with his accomplice.

Téa has Todd on her brain.

Kyle blackmails Jared and Natalie after learning the truth about baby Chloe.

Blair and Jack see more of Téa than they bargained for.
Friday: Marty is in grave danger.

Todd, Téa, and Blair are at the mercy of the KAD killer.

Lola rats out Langston and Markko to Dorian.
"One Life to Live" airs Weekdays on ABC. Weeknights on SOAPnet. Check local listings.
---
Discussion: OLTL PreVUE: Week of April 27 Edition
---