Wednesday, March 25, 2009 5:00 PM EST |
By Angela Rosa
---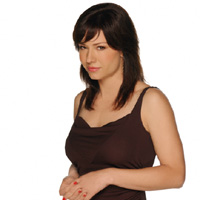 (SoapOperaNetwork.com) — Desperate measures.
THIS WEEK ON: GENERAL HOSPITAL
Nikolas and Rebecca's bond grows. On Tuesday, March 31, Lulu's anxiety rises when it becomes clear that Maxie and Johnny are keeping a major secret from her. Alexis is worried Nikolas is becoming obsessed with Rebecca. A saddened Robin admits to her psychiatrist that maybe she doesn't want be a mother after all. Robin is resistant to the idea of taking anti-depressants. Sonny gives Robin something to think about on Thursday, April 2. Lulu accepts Ethan's challenge to a game of poker to try to win back the cash he stole from Crimson. Patrick is frantic to find Robin who ends up in dire straits as her mind starts to play tricks on her on Friday, April 3. Nikolas convinces a scared Rebecca to have the biopsy.
The Inside Story: Child's Play
Johnny and Maxie rush to Claudia's rescue. The duo manages to get an unconscious Ric out of the penthouse undetected and drop him off at the hospital. Maxie promises Johnny that he can trust her to keep quiet. Ric vows to make Claudia pay for her latest stunt. Sonny and Jason ponder if Ian Devlin was in cahoots with someone when he shot Michael. Ric continues to put the pressure on Claudia who pushes an incredulous Johnny to join Sonny's organization as her secret spy. On Wednesday, April 1, Ric pays the consequences for threatening Claudia in front of her brother. Jason realizes Ric is blackmailing Claudia with something. Claudia formulates a new plan to save her behind. Jason questions Maxie in his quest to determine if Ian had a partner is crime.
Jax can barely hide his guilt when he and Carly visit Michael together on Monday, March 30. Carly insists that she saw Michael's hand twitch. Patrick insists to Carly that Michael's movement was an involuntary muscle spasm. Carly shares her hopes with Jason, who privately fears his friend is setting herself up for more heartbreak. Jax destroys the DVD Jerry sent him. Not wanting to dash her hopes, Sonny plays along when Carly tells him the latest developments. Olivia advises Jax to keep the secret about Michael's shooting from Sonny. Olivia encounters a pensive Sonny on the docks. Jax informs Carly that the experimental procedure they're considering for Michael could end up killing him. Carly is furious when she finds Claudia sitting by Michael's bedside. Carly's heckling about her and Sonny's bond brings Claudia to the conclusion that the only way to hold on to Sonny is to have his child. Jason finds a heartbroken Carly at the abandoned warehouse where Michael was shot a year to the date.
SON ALERTS: WEEK OF APRIL 6, 2009
Monday: Jason threatens to kill Ric if he's withholding information. Patrick fears Robin's brush with death was no accident. Carly struggles with how to proceed with Michael.
Tuesday: Carly is determined to find a way to get Michael back. Lulu tries to turn Matt's flirtation with Maxie to her advantage. Patrick's upset when Robin finds comfort in Jason's arms.
Wednesday: Olivia tangles with Claudia. Patrick and Robin can't seem to connect. Claudia is desperate to have Sonny's baby.
Thursday: Claudia spins a tale for Sonny. Maxie vows to get even with Lulu. An impulsive Nikolas pulls Rebecca in to a kiss.
Friday: Ric throws Claudia to the wolves. Lulu and Johnny call it quits. Tracy wants to find out more about Ethan.
"General Hospital" airs Weekdays on ABC. Weeknights on SOAPnet. Check local listings.
---