Topic:
The Young and the Restless
When we caught up with "The Young and the Restless'" Max Ehrich (Fenmore Baldwin) on the day he found out he's been nominated as an Outstanding Younger Actor for this year's Daytime Entertainment Emmy Awards, he was slightly in a daze. "I've been in daydream all day," he admitted. "I feel like I was hit by an electrical current."
But that's a feeling that happened after his initial excitement, which began when his phone started blowing up at 6:00 a.m.! "I couldn't go back to sleep. I was running around my apartment," he says with a laugh. "It's an honor, first off, just to have this job, where I get to do what I love to do for a living, and then to get recognized for my work is an amazing feeling."
Ratings Report for the Week of May 6-10, 2013
NOTE: Please do not copy and paste the entire ratings.  Thank you.
Numbers are based on Live+Same Day ratings
(Compared to Last Week/Compared to Last Year)
Total Viewers
1. Y&R 4,339,000 (+8,000/+20,000)
2. B&B 3,255,000 (+87,000/+193,000)
3. GH 2,566,000 (+115,000/+124,000)
4. DAYS 2,443,000 (+47,000/+9,000)
Households
1. Y&R 3.2/11 (same/same)
2. B&B 2.4/8 (same/+.1)
3. GH 1.9/7 (same/same)
3. DAYS 1.9/6 (same/+.1)
On Friday, May 17 at 3:30 PM PST, "The Young and the Restless'" Angell Conwell (Leslie Michaelson) will be appearing on Black Hollywood Live.
In a statement released just a short time ago, Lee Phillip Bell, co-creator of CBS' "The Young and the Restless" and "The Bold and the Beautiful," said, "JEANNE COOPER: respected colleague, industry icon, woman of passion and grandeur; most important, beloved friend. She was a shining beacon. Her love was unexpendable, and was given freely to all, from fans to great celebrities. She was not jaded by success, nor impressed by wealth and fame. Her crowning glory was her family: her children Corbin, Collin and Caren and her grandchildren, whom she adored, and all of whom adored her in return. Her presence resonated in the lives of all those around her. Through her personal and professional journey, she saved hundreds, possibly thousands, from the depths of alcoholism. She embodied compassion and forgiveness. No daytime icon has ever been more influential in the lives of millions. She will be terribly missed, but her light will shine on forever. May angels guide you on your journey, dear Jeanne. I will love you forever."
via Press Release
INTERNATIONALLY RENOWNED ACTRESS JEANNE COOPER
DEATH ANNOUNCEMENT
May 10, 2013, LOS ANGELES, CA … Internationally renowned actress Jeanne Cooper, who played the vibrant and tough grand dame with a heart of gold, Katherine Chancellor on "The Young and the Restless", died on May 8, 2013 after a brief illness.
She was born Wilma Jeanne Cooper in Taft, California on October 25, 1928, of English, Irish and Cherokee Indian descent, something she's always been extremely proud of, to Albert Troy Cooper and Sildeth Evelyn Moore. After graduating high school in the rural oil field town, she attended the College of the Pacific and performed in the Civic Light Opera Company and Revue Theatre in Stockton, California before graduating from the famed Pasadena Playhouse School in Pasadena, California.
Her professional career began with the film "The Redhead from Wyoming" with Maureen O'Hara in 1953, followed by many classics such as "The Man from the Alamo" with Glenn Ford, "There Was a Crooked Man" with Kirk Douglas and Henry Fonda, "The Boston Strangler" with Tony Curtis, Henry Fonda and George Kennedy, "Tony Rome" with Frank Sinatra and Jill St. John, "The All-American Boy" with Jon Voight, "The Glory Guys" with James Caan, "Kansas City Bomber" with Raquel Welch and "Let No Man Write My Epitaph" with Shelly Winters. More recently, Cooper starred in the feature films "Carpool Guy", directed and starring her son Corbin Bernsen, as well as "Three Day Test" and "Over the Hedge", also produced by Bernsen's film company, Public Filmworks.
Additionally, Cooper became a recognizable name by starring in many early television shows such as "Playhouse 90", "The Twilight Zone", "Perry Mason", "The Untouchables", "The Virginian", "Maverick", "Bracken's World", "Ben Casey", "Bonanza", "The Big Valley", and many others.
Cooper's most notable stage credits include starring roles in "On the Town", "The Miracle Worker", "Plain and Fancy", and the touring production of "Plaza Suite". She also starred in the critically acclaimed "Love Letters" at the Canon Theatre in Beverly Hills.
In 1974 she joined the William J. and Lee Phillip Bell daytime drama "The Young and the Restless", which just celebrated its 40th anniversary on CBS, in the iconic role of Katherine Chancellor. Cooper was the longest-running cast member on the series. In 1984, footage of Cooper's real-life facelift was televised on "The Young and the Restless" as her character underwent the surgery at the same time. Additionally, she made public, through Y&R, her struggle with alcoholism. She liked to say that she was the first reality show on television.
During her 40 seasons with Y&R, Cooper garnered 10 Daytime Entertainment Emmy nominations for Outstanding Lead Actress in a Drama Series, winning in this category in 2008, and one Daytime Entertainment Emmy nomination for Outstanding Supporting Actress in a Drama Series. Additionally, she received the National Academy of Television Arts and Sciences' Lifetime Achievement Award in May of 2004.
In 1962 she was nominated for a Prime-time Emmy Award for her role on "Ben Casey." In 1987 she was nominated, again, for her recurring role on "L.A. Law," playing the mother to her real-life son, Corbin Bernsen in the category of Outstanding Guest Performer in a Drama Series. Bernsen subsequently joined his mother on "The Young and the Restless" making several guest appearances as the priest Father Todd.
Additionally, in 1989 Cooper received a Soap Opera Digest Award and the Soap Opera Digest's Editor's Award for her portrayal of Katherine Chancellor on Y&R. She was awarded two First American in the Arts Awards as Lead Actress in a Drama Series and in 2009 was the recipient of the coveted AMEE Award from the AFTRA Foundation. Cooper received her star on The Hollywood Walk of Fame in 1993.
In 2012, Cooper published her memoir, "Not Young, Still Restless", which she wrote with her dear friend Lindsay Harrison, which was a New York Times best-seller.
Cooper has been the spokesperson for "No2Debt.com", a company that helps people reclaim their lives by getting out from under the burden of debt. She also is extremely proud of "Spring Board Center" in Midland, Texas, a facility for drug and alcohol addiction that she co-founded.
Cooper was pre-deceased by her parents and brother, Jack Cooper. She is survived by her three children, Corbin, Collin and Caren, eight grandchildren as well as her sister Evelyn Rader, and her beloved animals, Bishop, Daisy, and Crackerjack. Services are pending.
On Tuesday, May 28, CBS' "The Young and the Restless" will air a special tribute episode honoring the life of the late Jeanne Cooper (Katherine Chancellor). Cast members, friends and family of the beloved actress will gather on set next week to shoot a celebration of the life of Cooper, who passed away this week at the age of 84. Cooper, who portrayed Katherine Chancellor for more than 39 years, was the show's longest-running cast member.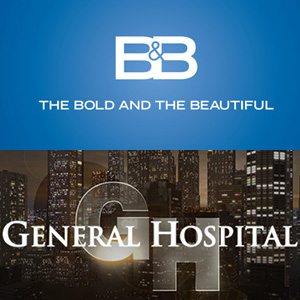 Ratings Report for the Week of April 29 – May 3, 2013
NOTE: Please do not copy and paste the entire ratings.  Thank you.
Numbers are based on Live+Same Day ratings
(Compared to Last Week/Compared to Last Year)
Total Viewers
1. Y&R 4,331,000 (-114,000/+38,000)
2. B&B 3,168,000 (-142,000/+57,000)
3. GH 2,451,000 (-99,000/+43,000)
4. DAYS 2,396,000 (-100,000/+65,000)
Households
1. Y&R 3.2/11 (-.1/same)
2. B&B 2.4/8 (-.1/+.1)
3. DAYS 1.9/7 (same/+.1)
3. GH 1.9/6 (-.1/+.1)
"Jeanne Cooper was one of a kind. No one who has ever known her would disagree with that statement. Her life force and energy were legendary. Many a time I marveled as she outlasted the rest of us on late night shoots. She was a moving, inventive, and powerful actress. She was a loving mother and grandmother. She was part warrior, part rabble rouser, part truck driver and part Diva, all wrapped up in one Great Lady. Most of all, to me, she was my friend and I loved her. For the last 26 years, hers was the face I most wanted to see when I came to work. Hers was the energy I most wanted to bounce off of on stage. Hers was the voice that kept me in stitches . And because of all that, hers is the presence I will never in my life forget," said Jess Walton (Jill Abbott, "The Young and the Restless") in a statement released to Soap Opera Network on the passing of co-star Jeanne Cooper (Katherine Chancellor).
As a tribute to Jeanne Cooper (Katherine Chancellor, "The Young and the Restless), who died today, MeTV will feature episodes of "Bonanza" and "The Big Valley" in which she guest starred tomorrow, Thursday, May 9 from 2:00- 4:00pm.
On today's episode of CBS Daytime's "The Talk," the co-hosts paid tribute to the life of Jeanne Cooper (Katherine Chancellor, "The Young and the Restless"), who passed this morning with her daughter by her side. Sheryl Underwood, a longtime fan of "Y&R," was working to hold back her tears while Julie Chen spoke the beautiful words in celebration of Cooper's life.