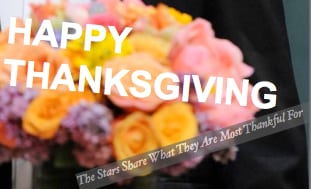 The rest of the country may have been preparing for Thanksgiving by sending out dinner invites, planning menus, buying turkeys, selecting table settings and betting on the day's big game, but Soap Opera Network has been getting ready for the celebratory day in a different way: Reaching out to several of your favorite "Days of our Lives" stars and getting the scoop on what they're most thankful for! Read on for their answers and then join in on the fun by leaving a comment below telling us what you're most grateful for this holiday season!
When Ted Corday and Betty Corday watched "Days of our Lives'" NBC debut on November 8, 1965, they couldn't have known that the soap opera they created would garner so much success. Now, 48 years later, the show not only is coming off of an Outstanding Drama Series win from the National Academy of Television Arts and Sciences, it's comprised of a talented and close-knit cast who all have very special memories regarding their time with the popular show. Soap Opera Network spoke with a few said castmembers, and in celebration of the show's 48th anniversary, they were all too happy to share some of their favorite moments from the early days and beyond!
Deidre Hall (Marlena Evans)
"Oh my god, Wayne Northrop [ex- Alex North, Roman Brady] and I [used to pull pranks on each other all of the time]. It was merciless! Merciless! Nothing was sacred. At one point, he was sleeping in my foster child's bed, so before my take, I said to my prop man, 'Give me a bucket of warm water.' And before he had to jump into bed, I poured it all over like the kid who wet the bed. He jumped into bed, and I had finished my part of the scene, and I began to run. He didn't even finish the take! He hit that bed, came off that bed and came after me. The race was on, and I got thrown in the shower! I mean, it was crazy, crazy, crazy. But it's a show filled with moments, and that's what you remember with daytime. It's been really wonderful, being a part of so many magical moments."
In a posting last week on its Facebook page, shortly after word that the Supreme Court of the United States had found the Defense of Marriage Act (DOMA) unconstitutional, the NOH8 campaign displayed a photo compilation of "Days of our Lives" cast members posing in support of the charitable organization whose mission is "to promote marriage, gender and human equality through education, advocacy, social media, and visual protest." The photo included actors Blake Berris, Eileen Davidson, Greg Vaughan, Kristian Alfonso, Bill Hayes, Lauren Koslow, Deidre Hall, Suzanne Rogers, Freddie Smith, Joseph Mascolo, Nathan Owens, Kate Mansi and Galen Gering, among others.
"Trumpet" is the fictional story of Elizabeth Trumpet who's looking become an actress on the london stage but finds herself dealing with situations that a sixteen year old girl of today couldn't even imagine. Danger, intrique and tantalizing storytelling abound in the 422 page fictional story by authors and real-life married couple Bill and Susan Seaforth Hayes, who are best known for their roles as Doug and Julie Williams on NBC's "Days of our Lives."
Beginning today through August 3, the duo will take part in a book signing tour throughout the country. "Trumpet" hit stores and online retailers on March 25, 2012.
Wednesday – July 18th – 7:00pm to 9:00pm
Barnes & Noble
The Grove at Farmers Market
189 Grove Drive Suite K-30
Los Angeles, CA 90036
Wednesday – July 25th – 4:00pm to 6:00pm
Horizon Books
243 E. Front Street
Traverse City, MI 49684
231-946-7290
Tuesday – July 31st – 7:00pm to 9:00pm
Anderson's Bookshop
123 W. Jefferson Avenue
Naperville, IL 60540
630-355-2665
Thursday – August 2nd – 7:00pm to 9:00pm
Left Bank Books
399 N. Euclid Avenue
St. Louis, MO 63108
314-367-6731
Friday – August 3rd – 4:00pm to 6:00pm
The Firefly Grill
1810 Avenue of Mid-America
Effingham, IL 62401
217-342-2002
About the Book (via Amazon.com)
Brilliant and sassy Elizabeth Trumpet fantasizes starring on the London stage, but to become an actress in 1803 is tantamount to losing her virginity in the most debasing way.

After watching her mother die and her father lose his mind, the courageous sixteen-year-old must find a way to save her family. She scores her first acting job as a fencer—the deadly skill she learned from her brother training for the military. Blessed with talent and a rare singing voice, Lizzie pursues her career, learning from theatrical characters high and low.

When reckless actor Jonathan Faversham sets eyes on Miss Trumpet, he knows he's found the partner of his life. But Faversham carries ruinous baggage from a dark past. Entangled in lust and ambition, Lizzie gives him her heart and they reach the heights together. Until Lizzie gets more applause than he…

From the magnificence of Regency palaces and the Theatre Royal Covent Garden to the sun-baked pyramids of Egypt and the arms of a real-life Samson, Lizzie is never far from trouble. As her brother rides to glory with Wellington in the Napoleonic Wars, great events threaten her survival. Danger lurks behind stage curtains, when a madman sets fire to take her life and she lifts a sword in revenge.

Will this once innocent girl, with her rise to stardom, be remembered for her art? Or for her shame?
Bill Hayes and Susan Seaforth Hayes are two of the longest running current cast members left on NBC's "Days of our Lives," but you wouldn't know it because they are barely on! Thankfully the network hosts its annual "A Day of Days" fan event where fans far and wide can come and meet their favorite stars and catch the rarest of glimpses of those not seen enough on screen at Universal Studios CityWalk in Hollywood, California. Considered one of "DAYS'" premiere couples with their portrayal of Doug and Julie Williams on the drama series, Seaforth Hayes and her husband sat down with Soap Opera Network to discuss fans, what has kept the show going for all these years and where they see things headed in the future and even a whopper surrounding the Horton clan's near demise from the canvas.
"The amount of time we have with the fans is kind of limited because it's a line for the autographs. The Q&A out in the open there at the end of the day is always hysterical. People saying 'take your shirt off' and the guys taking their shirts off, so everybody is happy but it's not a profoundly intimate experience for the actors with the fans," said Seaforth Hayes of the "Day of Days" festivities. "Oh, I think it is wonderful that we get to see the people that are that devoted that they will give up a Saturday morning or Saturday afternoon and come [here] to see us and talk to us and be with us. I think that is wonderful. Soap audiences are just different from any other audience. They are very involved, they are loyal and they are devoted. They just want to talk and it's wonderful," countered Hayes.