Agnes Nixon Playwriting Festival Gives Writers Opportunity to Write Future Episode of 'All My Children'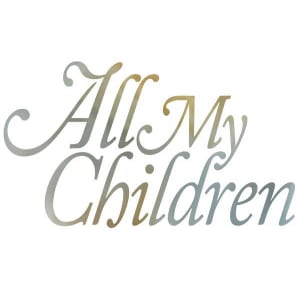 With "All My Children" literally back from the dead as it gears up to re-launch on Monday, April 29 on Hulu, Hulu Plus and iTunes, Prospect Park's The OnLine Network has announced that it has joined forces with the Agnes Nixon Playwriting Festival at Northwestern University in order to offer students a chance to hone their craft by providing them with a chance to write a future episode of the iconic soap. As the creator of both "AMC" and "One Life to Live," Nixon is back to in the game as a creative consultant on the reboots for Prospect Park.
"Agnes Nixon not only had the foresight to help us create and build our playwriting program at Northwestern—she is supporting our most talented students as they take the next steps in their development. It is amazing that someone like Ms. Nixon, a pioneer in serialized television, is helping our twenty-first century students use the newest channels for presenting their work," said Barbara O'Keefe, Dean, Northwestern University School of Communication.
As a Northwestern University alumnus himself, Prospect Park co-founder Jeff Kwatinetz said, "Agnes has been a pioneer in every way, she has inspired and nurtured the careers of countless individuals and we are truly honored that she is so actively involved in our efforts to breathe new life into her storied franchises," said in a statement. "We wanted to honor her legacy and the festival that bears her name. What better way to do that than by giving some of the school's best and brightest students the chance to craft an episode of one of her beloved creations, 'All My Children'."
According to a press release, "the writers and festival program at the school will receive an outline for an upcoming episode when the show premieres on April 29th and then have one week to produce a finished script. The festival and writers will share in a grant for their efforts."
"This is a terrific opportunity for our students to experience the rigors of writing for television," said School of Communication playwriting professor Laura Schellhardt. "Interacting with the production team for 'All My Children' under the same parameters and time constraints facing professional writer's rooms is a privilege, and we're honored to tackle a project so close to Ms. Nixon's heart. The project has also afforded us the opportunity to bring more guest artists to campus this quarter, which benefits the entire Agnes Nixon Festival team of undergraduate directors, actors and dramaturgs as well."