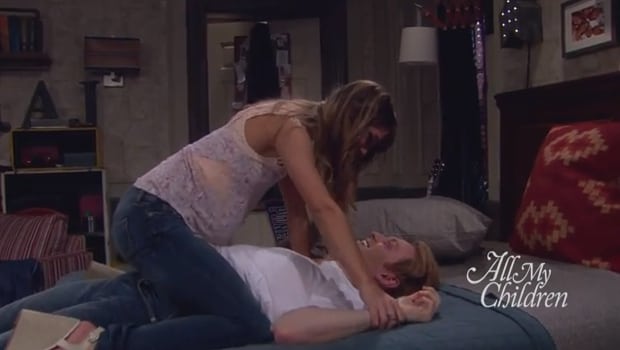 The official Drama Performer Pre-Nominations for this year's Daytime Emmy Awards were announced earlier today, and fans of "All My Children" and "One Life to Live" may have noticed something peculiar: Both online versions of the shows were much less represented than their network counterparts.
Despite the National Academy of Televisions Arts & Sciences declaring last October that the web sudsers were eligible to compete against "The Bold and the Beautiful," "The Young and the Restless," "Days of our Lives" and "General Hospital," only four actors are on the list: Oustanding Younger Actress pre-nominees Kelley Missal (Danielle Manning, "OLTL") and Denyse Tontz (Miranda Montgomery, "AMC") and Outstanding Younger Actor pre-nominees Corbin Bleu (Jeffrey King, "OLTL") and Eric Nelson (AJ Chandler, "AMC").
Most fans of both shows expected to see more of their favorite actors and actresses represented, but perhaps many of the performers followed the lead of Debbie Morgan (Angela Hubbard, "AMC"). In December of last year, the actress took to Twitter to announce that she would not be submitting herself for a nomination, even though NATAS changed the rules to include "AMC" and "OLTL." "I've decided not 2 have my name submitted 4 emmy consideration this year cuz I just really, really want to move on."
The actress later followed up her original tweet with more explanation: ""The many months of being told we're on hiatus but wld B coming bck & then snatching the rug from under us & the fans has been very emotional. So right now the head space I'm in is just completely distancing myself from AMC w/regards of an Emmy consideration. I wil 4 ever B grateful 4 the years of playing 'Angie' beautifully created by our beloved Agnes Nixon & our most amazing cast will always hold a special place in my heart… However, with the end happening in the way that it did, for right now, I just want to remove any reminders of our untimely end…& to be honest I don't need an Emmy 2 recognize how much U all loved the work I was able 2 bring 2 U…Your tweets said it all & that's "Emmy" enough for me…Smile!"
The candidates announced today will now advance to the blue ribbon screening round, which will determine both nominees and recipients. The final nominations will be announced Thursday, May 1.