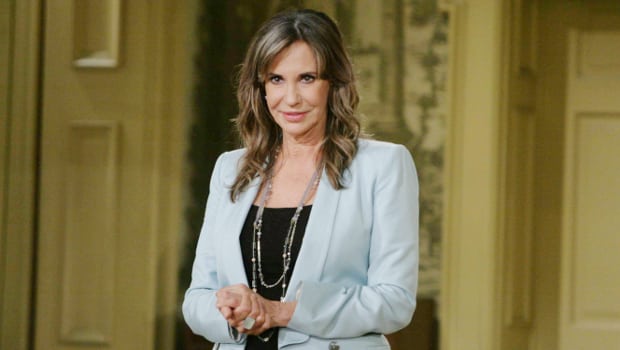 It's New Year's Eve and we all know what that means. Millions, if not billions, of people across the land will make a resolution that they plan to stick to when the clock strikes twelve as a new year brings a new day, but on CBS' "The Young and the Restless," Jill Fenmore Atkinson (Jess Walton) isn't planning to just eat healthier, go to the gym or lock down a man (she's already got Colin), she's out for some sweet revenge!
"Happy New Year, Katherine. If this is a test, sign me up. In 2015, I resolve… to get your company back from Victor's [Eric Braeden] clutches," Jill will say in "Y&R's" New Year's episode, as revealed on Tuesday, December 30 after a tease of the script was shared on the show's Twitter handle following the 250 retweet benchmark.
In a preview for tomorrow's episode, Jill is seen talking with Colin (Tristan Rogers), who she asks, "Are you suggesting that I try to get Chancellor [Industries] away from Victor?" Clearly from the script tease above, Jill will take Colin's suggestion seriously.
How will Jill take back Katherine's company from Victor Newman? You'll just have to tune in to find out!
As a reminder, "Y&R" will be airing a brand new episode on Thursday, January 1.