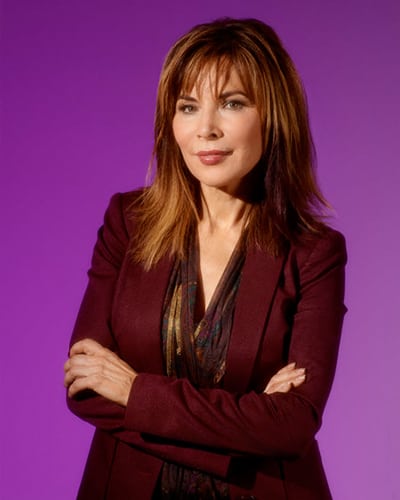 Though "Days of our Lives'" Kate Roberts (Lauren Koslow) has proven that she's a force to be reckoned with and can hold her own with the big boys of Salem, her latest love interest — shady Southerner Clyde (James Read) — is making for some very worried viewers!
"I'm really having fun with this story, and the audience seems really intrigued. Although, I'm getting a lot of warnings on social media, on Twitter, saying, 'Kate, you better watch out! He's dangerous,'" Koslow says of reaction to her alter ego's new partner. "I love it."
Though some fans aren't too happy with the fact that Clyde had a hand in the death of EJ (James Scott), the actress surmises that Kate doesn't see it that way. "I don't think Kate would have a problem with it. He didn't do it," she says with a laugh, adding that the way Clyde operates is very much how Kate operates. "They're very much alike."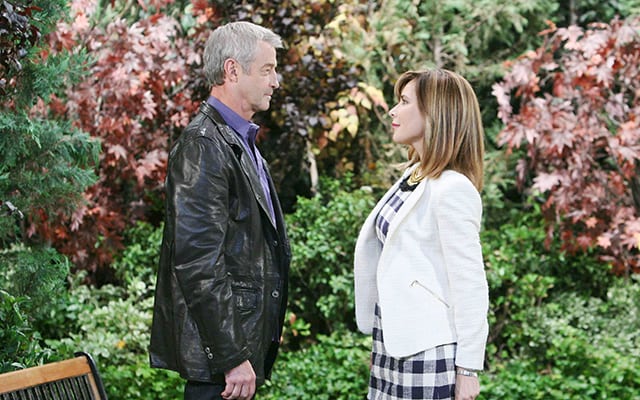 However, she appreciates that the fans are keen enough to know that Clyde isn't all that he seems. "I think people get a sense. That's why I love this audience. I think they get a sense that there's more there than meets the eye — especially if Kate is interested and intrigued by him!" she says. "You have to remember when he first came to town, he slightly blackmailed her into supplying a work crew for him, without it being said. The subtext to me, to Kate, was, you know, he's in some business, some edgy kind of business, and she helped him out. Obviously she's helping him out with DiMera… so she knows he's connected, that there's something going on there, and that's intriguing to her.
"[James] is such a wonderful actor," she continues. "I didn't know where the story was going, and when we did our very first scenes in the coffee shop… James came in and sat down, and we just did our first rehearsal, and I thought, 'Oh my God, this is going to work out. He's going to be here for awhile.' Because he's a wonderful actor. And we work in a similar way: Very much in the moment, very spontaneous. He's just always there and focused. And it was intriguing for me, because I didn't know anything about the character, and the same thing for Kate, but Lauren and Kate are both fascinated with this man. Even though I feel like Kate knows, 'Why am I? I shouldn't be.' But she can't help it. It's a chemical attraction to him."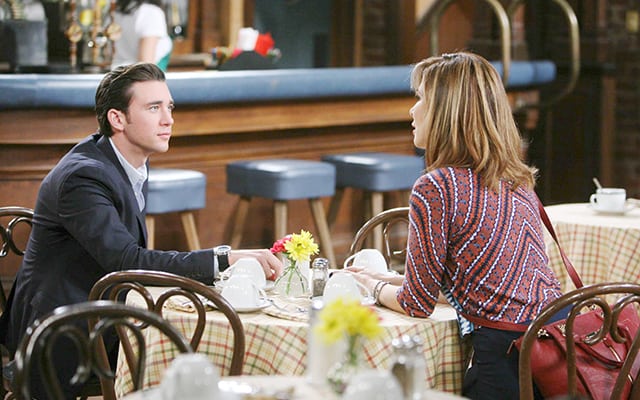 That is, of course, because Kate has always loved a bad boy. And that's why she barely flinches when Chad throws her a fast one later this month. "The thing is with Chad is, I think she's proud of him, that he is what he is," she explains. "He's a little bit of a snake, and that's ok. In true DiMera fashion, he's assuming his position in that family, which she is happy for him to do. And really, she wanted him to do that before…. And now, he is a threat. He came back all edgy. And Billy [Flynn] is doing such a good job. He's really good. And hot! So there's a lot to come out there. So as much as she's angry about what he [does], she has to step back a little bit and say, 'Good move.'"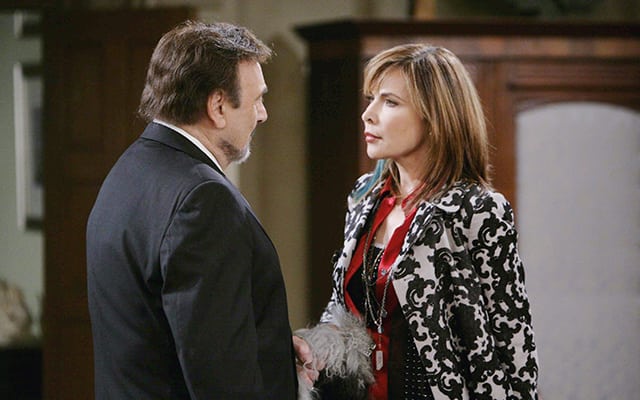 Speaking of the DiMera clan, viewers have been wondering what's going to happen once Stefano (Joe Mascolo) is fully back on the canvas — and Koslow says what's to come may be unexpected. "The stars are realigning," she teases of the show dynamic a whole. "You have exits of very long term characters, and the writers, I think, are doing a wonderful job. They've just launched into other stories, and there is a realignment, and it's kind of fascinating for us, the people who have been on the show for a long time, because that means you're mixing it up with people that you didn't necessarily mix it up with before. And there's a lot of that coming on. And it's really good. Stefano, he's been in her life a long time. And it's a strong influence, and that's a battle. It's a different kind of relationship now, because they are true adversaries. They really are adversaries."
Meanwhile, Koslow says to look forward to some new faces that fit into the changing dynamic of the show. "There are a couple of new characters that we're going to find out about… who really influence a major storyline in a major way," she teases. "I think it's happening the next few weeks, maybe the next month, in a major way. It's going to be a shocker!"