After saying goodbye to friends and colleagues on Friday, May 23 as she wrapped filming her 21 year run as Samantha "Sami" Brady on NBC's "Days of our Lives," Alison Sweeney is gearing up for the release of "Scared Scriptless," her fourth book. The actress will appear at the NBC Experience Store in New York on Tuesday, June 3 signing purchased copies of her book, which is being released by Hyperion the same day.
In advance of its release Sweeney spoke with TV Guide's Michael Logan about the book, how she told "DAYS" executive producer Ken Corday of her plans to depart the soap, and whether fans can ever expect to see Sami return to Salem after her final scenes air sometime later this fall (the soap films approximately 5 months ahead of airdate).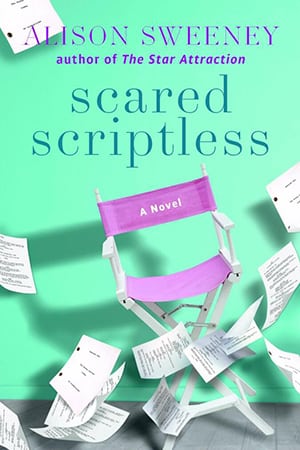 "Scriptless," which Sweeney wrote herself without the aide of a ghostwriter, follows script supervisor Maddy Carson of the fictional hit TV show "The Wrong Doctor" as she returns to her hometown in the hopes of bringing it some much needed financial support via a reality TV concept she plans to shop to networks without knowing her TV executive boss/boyfriend has ulterior motives of his own.
If you're wondering why Sweeney made the character a script supervisor, and not a more glamorous career, Sweeney says, "We'd be nowhere in show business – or in life – without the detail people. It's people like Maddy who are the true foundation of a show, who know all the backstage scoop and are the most irritated people by all those bad actor habits, like not sticking to the script." As for if there were any similarities between her and the character, she notes, "I am definitely making fun of myself in this book. [Laughs] And everyone at 'DAYS' will recognize that!"
Talking about how Sami will exit the "DAYS" canvas, without giving much of anything away, Sweeney states with confidence, "She won't just vanish into the night." Adding, "I had no say over what they wrote, so my only leverage with Ken Corday was to promise that I'll come back to the show if someone gets married or dies, or for Christmas or the 50th. I could not handle it if I was not there for the show's 50th anniversary next year. I very much wanted that door left open and Gary Tomlin [co-head writer, 'DAYS'] wrote a great send-off story that allows that to happen. I will always be a 'DAYS' champion. I hope Salem is still here in five years and that there's still a job for me. I want that town to be around forever."
So how did she tell Corday of her plans to depart? "It was a million times harder than I thought it would be. I made an appointment and went to Ken's office. He is so important to my life and I respect him tremendously. I told him my plans and he was so kind and wonderful and supportive. He said, 'Is there anything I can do to change your mind?' I said, 'No,' and he was very respectful of that."
Ironically, pissed is the one thing Sweeney hoped Corday would be after hearing one of his biggest stars planned to exit the soap. When Logan asked that very question, Sweeney says, "Well, I hope so. Is that bad to say?" She went on to say, "I would hope that he's a little pissed off because I want to matter that much to him. That man means so much to me. That's why I went in to see him as soon as I made my decision, which was back in October. I wanted to give everyone enough time to handle this however they want to, rather than forcing them to create some last-minute, thrown-together exit story because they didn't see it coming. [Laughs] I'm sure the second I left Ken's office, he called 10 people going, 'Get in here! Now!'"
To hear more from Sweeney and her book, "DAYS" and her exiting the series without a single Daytime Emmy Award nomination, click here.