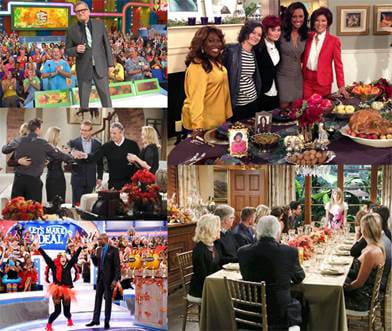 CBS Daytime is celebrating Thanksgiving early with a buffet of holiday-themed episodes of all of its daytime shows, including "The Bold and the Beautiful" and "The Young and the Restless," which will air on Wednesday, November 26.
The Forresters, Logans and Spencers join together on "B&B" for a Thanksgiving feast complete with food, forgiveness and gratitude — a bit of a holiday theme for the sudser's characters as of late. Pam (Alley Mills) and Charlie (Dick Christie) prepare the perfect meal for the group, and as everyone settles in, Hope (Kim Matula) announces that they will be continuing the tradition of putting their conflict aside and saying something kind to the person next to them — whether friends, enemies or somewhere in between. But not all goes smoothly, because it's clear that two characters are having a hard time keeping their undeniable feelings for one another under wraps!
Meanwhile, on "Y&R," Victor (Eric Braeden) and Nikki (Melody Thomas Scott) host Thanksgiving dinner for friends, family and a few unexpected guests at the Newman Ranch. Other members of the Newman family are at an important crossroads as Nicholas (Joshua Morrow) finds himself in a life-altering predicament, Victoria (Amelia Heinle) decides to find out who her baby's father is and Adam (Justin Hartley) prepares to reclaim his life under a new identity. Across town, Jack (Peter Bergman) and his fiancée, Phyllis (Gina Tognoni), spend Thanksgiving making up for lost time after she spent the last year in a coma. But will Phyllis get the happy ending she's been waiting for?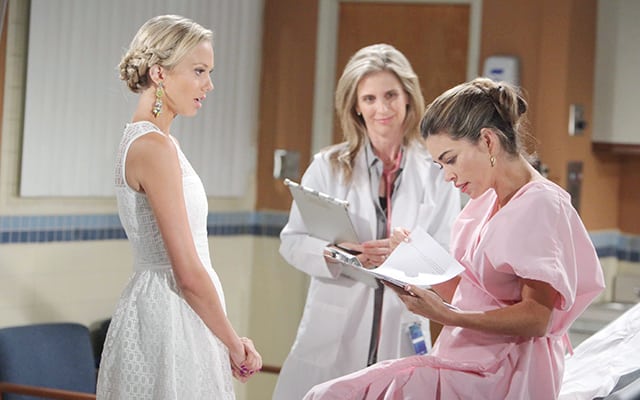 Also airing on Wednesday, November 26 are special episodes of "Let's Make a Deal," "The Price Is Right," and "The Talk." "LMAD" will feature traders dressed as turkeys, pilgrims and pumpkins, as well as themed games and giveaways. Games will feature a 3-Turkey Deal for big cash, a trading game including a Turkey Hotline and a giant pumpkin pie. Host Wayne Brady does his best turkey impression, and the pumpkin pie becomes the center of attention for the hungry cast. Plus, the entire studio audience will receive a family heirloom cookbook project with which they can design, create and publish their own cookbook with family holiday recipes that they can hand down to future generations.
"TPIS" celebrates Turkey Day with themed games and prizes, including a home gym to work off the tasty treats, a new dining room to celebrate in, and a platinum china set for serving the holiday feast to your guests.  Plus, celebrity chef Susan Feniger stops by to present a special showcase featuring a food journey around the world, including trips to Los Angeles to experience the food truck scene, to the Riviera Maya for the amazing ceviche, and to Singapore for the award-winning dining.
Meanwhile, "The Talk" marks Thanksgiving with delicious holiday-themed recipes, a big giveaway and celebrity appearances all week long:  Actress and New York Times bestselling author Brooke Shields discusses her new book and chef Paul Bartolotta serves up delicious fall dishes on Monday, November 24. On Tuesday, November 25, Emmy and Tony Award-winning actress and singer Kristin Chenoweth performs live while chef Susan Feniger cooks up some holiday cheer. On Wednesday, November 26, Emmy Award winner Jennifer Aniston visits, and the hosts unveil a special holiday giveaway for kids.
CBS Daytime pre-emptive notes for the week of November 24-28 include:

Thursday, Nov. 27, 2014:

o   LET'S MAKE A DEAL and THE PRICE IS RIGHT will be pre-empted due to "The Thanksgiving Day Parade" on CBS

o   THE YOUNG AND THE RESTLESS will be pre-empted due to CBS Sports coverage of NFL Football

o   THE BOLD AND THE BEAUTIFUL will be pre-empted due to CBS Sports coverage of NFL Football

o   THE TALK will be pre-empted due to CBS Sports coverage of NFL Football

Friday, Nov. 28, 2014:

o   LET'S MAKE A DEAL will be pre-empted due to CBS Sports coverage of NCAA Football

o   A repeat episode of THE PRICE IS RIGHT will air 11:00 AM-12:00 PM, ET and 10:00-11:00 AM, CT, but will be pre-empted on the West Coast due to CBS Sports coverage of NCAA Football

o   A repeat episode of THE YOUNG AND THE RESTLESS will air 12:30-1:30 PM, ET and 11:00-12:00 PM, CT and 3:00-4:00 PM, PT, due to CBS Sports coverage of NCAA Football

o   THE BOLD AND THE BEAUTIFUL will be pre-empted due to CBS Sports coverage of NCAA Football

o   THE TALK will be pre-empted due to CBS Sports coverage of NCAA Football