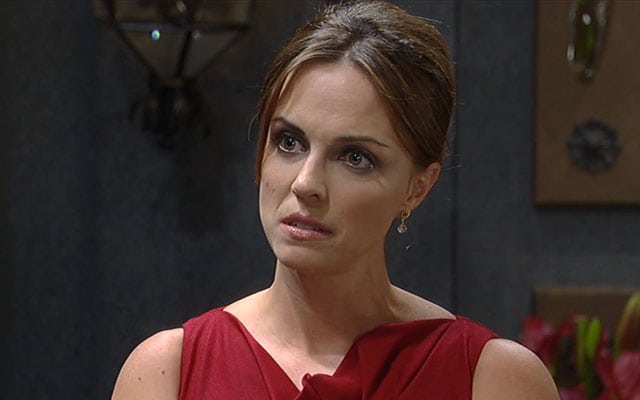 If you tuned into the Friday, October 24 episode of ABC's "General Hospital," you may have noticed a familiar face with a new do. Actress Kelly Sullivan returned as the spirit of Connie Falconeri, who was murdered last year by Ava Jerome (Maura West), in scenes with Maurice Benard's Sonny Corinthos. The return of a normally blonde Sullivan to "GH" comes just days before the actress is set to make her debut as a brunette Sage Warner on CBS' "The Young and the Restless."
If you tuned into the Friday, October 24 episode of ABC's "General Hospital," you may have noticed a familiar face with a new do. Actress Kelly Sullivan returned as the spirit of Connie Falconeri, who was murdered last year by Ava Jerome (Maura West), in scenes with Maurice Benard's Sonny Corinthos. The return of a normally blonde Sullivan to "GH" comes just days before the actress is set to make her debut as a brunette Sage Warner on CBS' "The Young and the Restless."
In the clip below, Sonny freely admits that he killed AJ Quartermaine (Sean Kanan; now appearing on "The Bold and the Beautiful" as Deacon Sharpe) and if given the opportunity again he doesn't think things would have turned out any differently, but ultimately he let his son Michael (Chad Duell) down. Connie then points out that in order for him to make up for what he's done he's going to now get revenge on Ava. "You're damn straight I am," he says.
To Recap: As a result of Connie's writing the initials "AJ" when questioned who was responsible for her attack just before she succumbed to her gun shot wounds, Sonny made it his mission to get revenge against AJ who was later found not guilty of the crime. Still not knowing the truth, Sonny walked in on AJ strangling a guilty Ava and shot the only biological son of Monica and Alan Quartermaine (Leslie Charleson and Stuart Damon). After several near death moments, AJ finally died in his hospital bed after revealing to to ex-wife Carly Corinthos (Laura Wright) that it was Sonny who did this to him. Ironically enough, Carly kept the secret of who really shot and killed AJ and is now having an affair with Sonny behind the back of her fiancé Franco (Roger Howarth).
Sullivan debuts as Sage on "Y&R" beginning Tuesday, October 28.