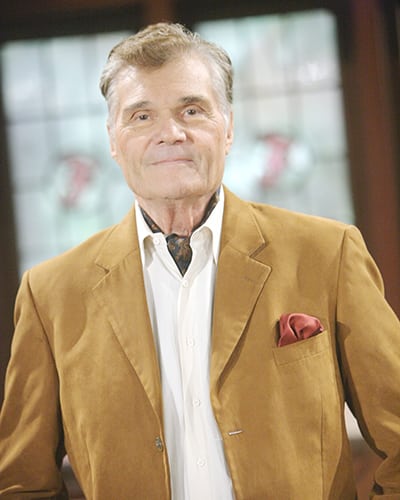 Famous funnyman Fred Willard is set to make his "The Bold and the Beautiful" debut as Eric's (John McCook) brother, John Forrester, next week! To celebrate his arrival, Soap Opera Network took part in a special press event where the celebrated comedian shared all the deets about his daytime gig, including working with the sudser's cast, staying PG for family audiences and what viewers can really expect from the zany character once he crashes Forrester Creations. Read on for the scoop!
Though Willard has created quite a successful career for himself with an IMBd list that will make your head spin, the "Modern Family" and "Family Tree" star reveals that he's always wanted to star on a soap opera. "I've always wanted to be on a soap opera, because as an actor, I love the way they work," he shares. "They work fast and each scene is like a little quick one-act play; they don't beat it to death. The atmosphere was wonderful. The actors who have been on the show couldn't have been nicer. John McCook kind of showed me through the ropes and all and made me feel right at home. [Though], I kept expecting to be shuttered off to the side or pranked or something!"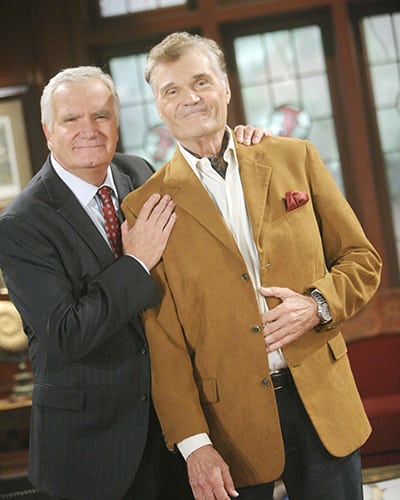 The real joke, however, lies in the fact that Willard has been working with "B&B" for quite some time to make a guest appearance, and the cards just never fell right… until now! "They asked me to do it, and I said yes, and then they sent me the script… and then when I got the script, I loved it," he explains. "I loved the character. I wasn't sure what it was going to be. Because first they said, "Would you like to come in and work with us on a character?' And I couldn't do it at first. I'd done a pilot earlier… and I was under contract, so then when I called, I talked to [executive producer] Brad Bell, and he said, "Oh, this is a perfect time, because we're writing in Ivy's (Ashleigh Brewer) father, who's come over from Australia, and it might be a two or three show arc,' and I said, 'That sounds wonderful.' And they explained the character to me, and I said, 'That sounds great.' And they said, 'Slowly, we'll move John McCook out of the picture.' [laughs]"
Kidding aside, he loved working with McCook, as well as Brewer and Alley Mills (Pam), whom he has a bit of an onscreen flirtation with! Especially because, as he teases, John is quite a colorful character to play. "He seems to be kind of a world traveler, [but with] a lot of bologna," he says. "I'm showing my brother a picture of the head of North Korea, and it turns out it's not the head of North Korea, because he sees me standing in front of the Wall of China! So I'm sure I make up half the stories, and I'm probably in love with my own life, and I seem to be very fond of my own wife; I speak of her very fondly. And my daughter. So I don't see any bad side. Its kind of humorous. He's kind of a harmless guy."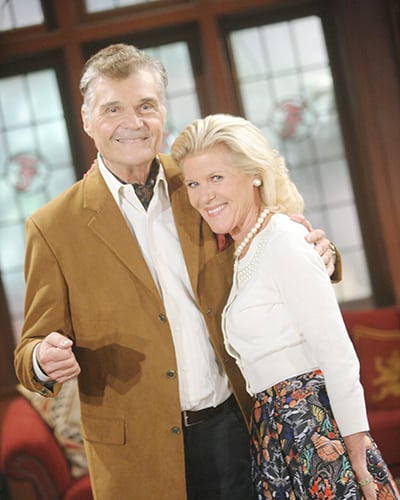 "I don't think it's a lough out loud part, but I think there's a funny scene in the third episode," he adds. "I don't think it's turned into a comedy. I'm a quirky, kind of strange character."
As for whether or not he was able to adlib and include some of his signature comedy or if he had to stick closely to the script, the actor shares: "I said to the executive producer, I said, 'How close to you stick to the script?' And he said, 'Just do what you want, but keep it kind of family oriented!'"
Funny enough, one of the scenes Willard taped was actually his worst acting nightmare: A party scene! "[Two of my episodes are] all one long party scene, which I usually try to avoid," he teases. "When I look at a script, 'A party scene? This could be a month!' But John said, 'You'll be out of here by three or four tomorrow.' And I said, 'Really?' Because most of your shows are 14 hour days, so when they say you're going to be out by five, I say, 'Oh, that's wonderful!'"
Willard confesses that he used to watch the classic NBC soap "How to Survive a Marriage," and most recently, he started watching "B&B." "I started watching this when I found out I was going to be on it, and I got interested in the storylines," he shares. "I got to talk to [Scott Clifton, Liam Spencer]. I saw him going to Paris, and I thought, 'Well that's nice!'"
But what does he think of Eric? Or rather, what does John think of his younger brother? "I probably envy him quite a bit, because he's got a real job," Willard guesses in character. "I try to discourage him from coming down to Australia, but I think when I see the models he works with and the place he works in, his friends, I'm quite envious."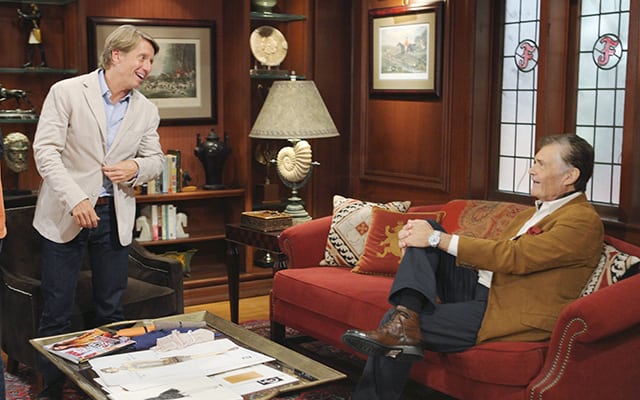 Luckily, the writers are leaving the door open for the actor to return, so perhaps he too will become a part of the family business! "They said if I enjoy it, then we could do it again. And I'm sure that means if they enjoy it I could do it again!" he says with a laugh. "But it's really nice to come in and do three episodes in two days. That's wonderful. I mean, on regular television, it would be three weeks and [one episode]… I've always wanted to be on a soap opera, because like I said, coming in every day with a new one act play, the next day it's gone."
Willard will be appearing as John on CBS' "The Bold and the Beautiful" on Thursday, October 2, Friday, October 3 and Monday, October 6. And if that's not enough to satiate your appetite for the actor, he reveals he'll be appearing in another upcoming episode of "Modern Family" — and a rep for "B&B" reveals that he'll be back for additional episodes of the soap later in the year. So stay tuned!