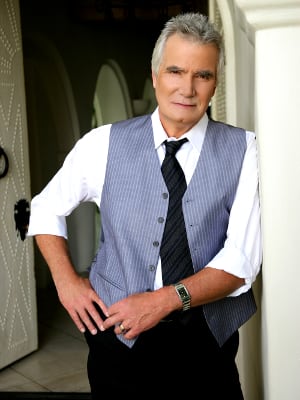 "The Bold and the Beautiful" patriarch Eric Forrester (John McCook) lost his other half, matriarch Stephanie Forrester (Susan Flannery), just four months ago. This week, Eric goes full steam ahead with new flame Dr. Taylor Hayes (Hunter Tylo), who is being brought into the Forrester Fold! MSN Entertainment's Deanna Barnert caught up with McCook who couldn't be more excited!
"It's wonderful and interesting" says McCook. "Hunter and I are really happy to have this story together. It's fun for us to have a new relationship to play." The actor added, "right now, people who are looking at it from a negative point of view are calling this his rebound. We have to sit back and watch. We don't know what the end game is for Eric and Taylor, if there is one. Are they going to get married in a year? Or next week?"
For the full interview, where McCook also reflects on life after Stephanie, his 2013 Daytime Emmy Pre-nomination, and how the rest of the town reacts to Eric and Taylor, click here!
In other related news, look for Winsor Harmon (Thorne Forrester) to make an appearance on Wednesday, March 13.