"The Young and the Restless" has cemented its spot as the number one daytime drama for the past 25 years with a record of outstanding decisions, and the sudser's latest flawless move was the addition of Emmy-winning actress Gina Tognoni, who took over the role of Phyllis Summers (previously portrayed by Michelle Stafford, Nina Clay, "General Hospital") this year. The Missouri native showed off her serious acting chops as "Guiding Light's" Dinah Marler and "One Life to Live's" Kelly Cramer, and now that Phyllis is finally out of her lengthy coma and headed back to Genoa City starting this week, Tognoni will be giving soap fans yet another dose of her powerhouse skills — but this time, as the feisty GC diva "Y&R" fans have loved since she hit the scene back in 1994!
But what exactly was it that set Tognoni apart from all the other actresses who were vying for the coveted role? How will she interpret the beloved character? And what can viewers expect once Phyllis finally sets foot in Genoa City and sees that many of her loved ones — including Jack (Peter Bergman) and Nick (Joshua Morrow) — have moved on without her? Soap Opera Network spoke with the actress to find out, and we're here to tell ya: Genoa City better invest in a bigger fire department, because things are about to get seriously heated!
Friday, September 26 marks Phyllis' official return to Genoa City, and the moment has been a long time coming. Stafford last aired as the redhead in August of 2013, and since then, the character has been in a long coma following a tumble down the stairs after an altercation with Sharon (Sharon Case). "Y&R" started searching for a replacement Phyllis this spring, and it was announced shortly afterward that Tognoni had landed the role — a feat which the actress says was kismet. "It worked out the way it was supposed to, I believe, and I'm so grateful," she shares, adding that when the audition came to her attention, she had a gut feeling that she should toss her hat in the ring for the role. "This came about, and I said, 'Boy, there's four of [the daytime shows] left, but this is the one!' Just the history and the size of it. And I saw it was for Phyllis, and I said, 'Well, I'll give it a shot.' And everything just kind of fit together. I commute for this. When I'm not working, I'm home with my husband [Joseph Chiarello] in New Jersey, so every time I'm coming and doing Phyllis, it's such a commitment, but I love it with a capital L! Oh my goodness, people are so generous, they are so kind. Great group of people. They're grateful for what they have. So every day, I truly am just blessed."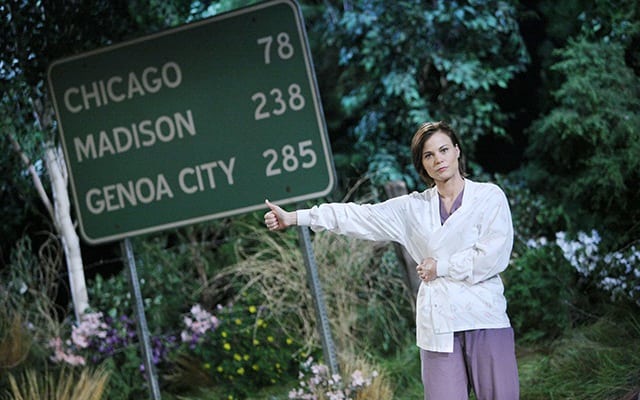 Before the opportunity came about, Tognoni was actually running a shoe company in New York called Sole 9 — which she admits was a total departure from acting, but something she felt she needed to do after leaving the soap world in 2011. "A portion of our proceeds goes to women who have survived domestic violence here in the United States through a coalition called NCADV… and to create something like that with my family — my father, my brother and my uncle — I went in and tried my first attempt of putting a line together of women's shoes, it was creative and it was something that I was doing away from acting, and I'd always wanted to do that; I'd always to create something that had nothing to do with acting, just for the sheer fact that I'd done so many years of it, of acting," she explains. "And then this came about, and I'd always admired [the show] from afar, and I've always admired Michelle's work from afar; she did a great job with Phyllis. So I knew that this character was really important, and when it came across my path, I thought, 'Ok, I'll definitely entertain it and audition for it,' and it worked out the way it did. It was something I was very passionate about."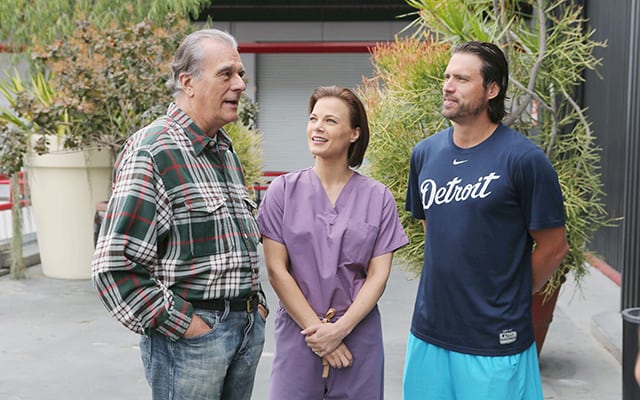 Tognoni's audition has been rumored as flawless, and fan reaction to the recast has thus far been very positive. But what exactly was it that set the actress apart from everyone else? "It's a great question, and I have to ask myself that question a lot!" she says with a laugh. "I have to ask that question in order to keep her going: 'What is it, what is it? Let's get in there.' Because this is a process of reinventing her in some way. I have to put my arms around it, I have to put my fingerprints on it, and the way in which you do that is by digging deep and being unafraid of just going for it. And there are certain scenes that I get to really do that on, and then there are scenes when I can be a little bit more subtle. So it's about driving the scenes every day. You have to remember to do that, not to sit back and to really go for it.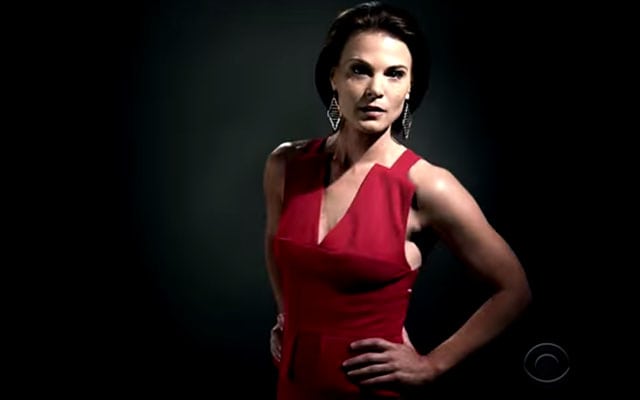 "It does take some energy, so it's not easy," she continues. "It's definitely a process. But I'll tell you what: Peter Bergman, he is amazing. He's helping me in a lot of ways, because he has a particular insight on Phyllis, and Joshua has an insight and Sharon has [an insight], and I really have to listen to that, and I want to listen to that. I've done my homework, but these guys know this character very well, too. Sometimes it's a little bit of a mind trip. You walk into work, and people are knowing your character almost better than you do! It's a process. It really, really is. But hopefully we're getting her spirit into people's living rooms every day. She is fierce, and she may be a little cray-cray sometimes, but she is entitled to that. She has earned it. She has worked very hard to come back, and there are a lot of questions that she needs answered, and Phyllis wants the facts. She wants the information. She doesn't do well when she doesn't have the information!"
READ ALSO: 'Y&R's' Phyllis Summers: While You Were Sleeping… (Photos) + Gina Tognoni's First Airdate Revealed!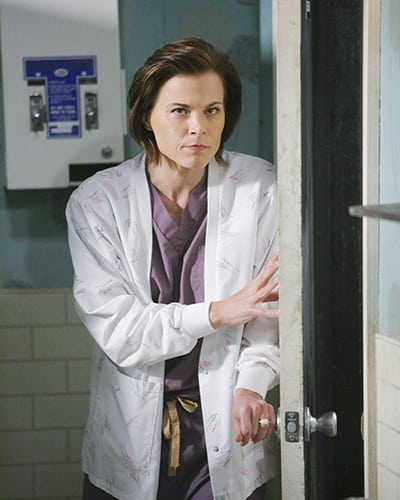 That right there is the first indication that Phyllis will definitely be making heads spin once she storms back into GC, but that's just the tip of the iceberg. Tognoni says the writing for the redhead's return is top-notch. "It is A+," she enthuses. "I just hope I'm doing it justice! And I'm really not just saying that [it's great material]. I am over the moon. I think they have thought it out. They have planned it. They talk about it. They are on top of it. They care. So that's all we could ask for. We have a company, a group of people that care about this character, that wanted to bring her back, and she's back. And I get to do that for the folks. I'm telling you, they care. And I've been on the opposite of that sometimes! So I am grateful for their interest and their enthusiasm."
Heading that team is "Y&R's" executive producer Jill Farren Phelps, whom Tognoni previously worked with on "OLTL." "I got out in LA with the morning of the screen test, and we hadn't seen each other in a long time… so seeing her was kind of neat, and… she looked at me, and she said, 'Boy, you really grew up. You grew up beautifully.' Isn't that sweet? It just touches my heart every time I think about it. It does feel that way, that she does not see me as young little Kelly. She doesn't see me as that little girl, that chubby little actress, whatever you want to call it, she just sees me as me, and she sees me as Phyllis. And she said to me that she is so happy that I'm there. And these things meant a lot to me."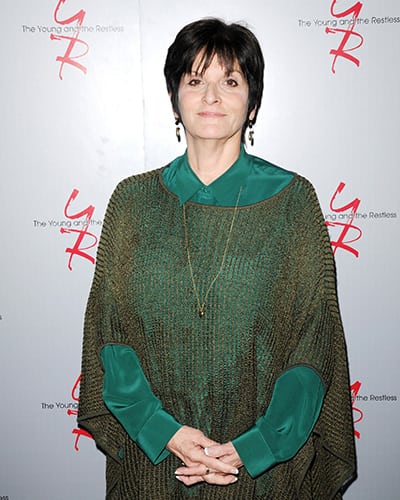 As for working under Phelps' wing, the actress says it's fantastic. "Working with her is a dream, and one of the reasons why it's a dream is because she trusts her actors," she explains. "That's number one, and number two, she leaves you alone. She lets [the actors] do what they were hired to do, which is to create and to fill it with love and energy. And that is something that I revere and love about her. She is in charge of a very successful show in a lot of ways, and everyone is happy there, and that says a lot. When she comes on the floor, it's very quiet, and we know that she's there, but it's great. You feel safe around her, and she cares about the work at the end of the day. And she gives great notes. And she knows this show. She knows these characters. When I was doing my screen test, she gave me great insight on Phyllis and so for that, I'm grateful. She's just a great lady to work for."
Some of the insight Phelps provided Tognoni was a thorough description of the character's most recent history. "She was wonderful. She made sure that I was provided with a copious amount of backstory in the sense of giving me a real clear picture of where this character was coming from, so she made sure all of those things were in line," says the actress. "She made sure that when I got there, it felt like home. And it did. I tell you, from every department, from crew to lighting, wardrobe, just incredibly welcoming. It just felt smooth. Everything was great. And everybody knew I was there, and whether it was promos or galleries, everything was just a combined, well-oiled machine. There's a reason they are number one. There is a certain amount of pride that is there, and yet it has humility — such a tremendous amount of humility. I mean, it's the number one show, and sometimes you walk around and you're like, 'Do you realize you've been number one for 25 years?!' I mean, it's incredible! The humility is very cool. Sometimes if I focus on that for too long, I get all warm, and I go, 'Oh, just focus on the work. Focus on the work!'"
And focus on the work, she's done. "I particularly like subtleties as opposed to in your face," she details about how she's been making the character her own. "She has a gazillions ways to get to her goal, and each day, you'll see a little bit [of a] different color. So far, even when I'm not saying much, and I'm beginning my journey back to Genoa City, each day has been different. And not so radically that you go, 'Oh my gosh, who is that?' But there are really nice subtle changes that I've been making, and I've been getting some feedback from some folks who are with me on the floor, and it seems to be jiving."
And, by the way, she's happy to report that the material coming the audience's way in the next few months is very much opposite from the comatose state she's been portraying for several weeks now. "I'm not shutting up!" she says with a laugh. "I'm talking and talking and talking and making up for all those days that I was quiet."
While Tognoni couldn't get specific regarding storyline details, she does tease that finding out that the entire town — including Phyllis' former flames Jack and Nick — have moved on without her will be an uphill battle. "it's going to be perturbing, and it's going to be very upsetting," she teases. "She's taking it all in, and… it is not at all what she anticipated."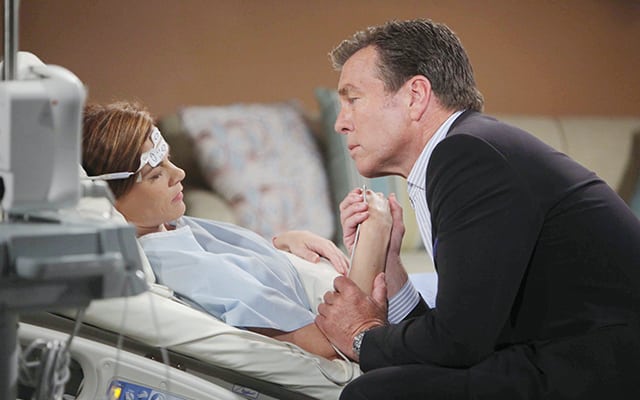 Something that has played out exactly as anticipated, however, has been the actress' experience working with Bergman. "He is such a gentleman and so kind," she enthuses of her co-star. "Everything that you've heard about him is like 10 times true. He's a gentleman, he's generous, and I mean, what an asset he is to the show."
And though Stafford has been gone from "Y&R" for quite some time now, Tognoni's experience with her has been positive, as well. "She was very much a lady and [tweeted me when I joined the show], and that was so nice," she notes. "I tweeted back, 'Very cool, Stafford. Very cool.' It was really nice. And I know that she's having fun over there at 'GH.'"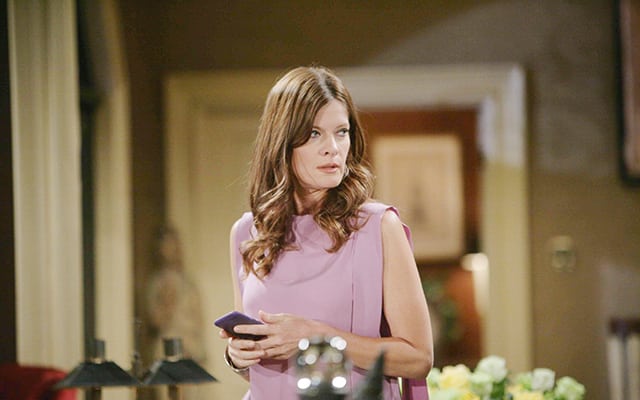 Speaking of other shows, the Emmy-winner shares that she was particularly upset to hear the news about "GL's" cancellation. "I was very broken hearted, because it had been on the air so long. It was my first soap. So it was harsh. It was really harsh to see that go. And then you saw 'As the World Turns,' and then you see 'All My Children,' 'One Life to Live,' it was almost like such a transition, such a shift in daytime and daytime history, and I know that everybody kind of just, like a bad storm, kind of just sat back and waited for the pieces to fall.
"But what happened, obviously, is we have four left, and you've got all this fantastic talent, and it's almost like trading teams!" she continues. "I look at it like baseball teams, like, 'This player now is playing on this team,' you know? And I think daytime has never been more exciting, never more exciting, because you've got people who are so grateful for what they have, and you've got so much to choose from. And daytime is back! It's back. And I don't think there are many people who would disagree with me."
For those "GL" fans who are still missing Dinah, Tognoni says you're in luck: Her former alter ego and Phyllis have a bit in common. "They could totally be cousins!" she says with a laugh. "But they're different. There's just a different edge. I think Dinah is a little bit more raw. Phyllis has a little bit more sophistication and edge, I could say that. I'm still finding that and honing that, trying to find out where I can really [dig] my heels into that. But I've been sensing that and having fun with that. So a little bit more sophisticated."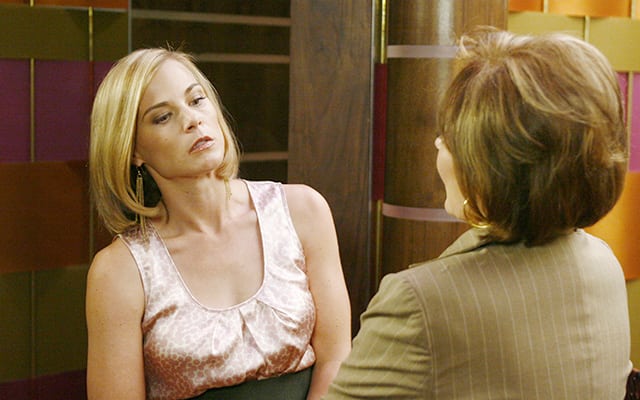 And, she says, "Whatever I've ever missed within Dinah, I'm working that all out now with Phyllis! I'm working that all out, all the cray-cray and fun and crazy stuff that you would never say — never — in real life, Phyllis gets to say. And that's the weird thing, Gina is not like that at all, not at all. So it really is a bit of stretch. I'm usually a very edited person. I'm very polite. But Phyllis is NOT!"
So far, Tognoni has had a blast playing her new alter ego, and not a day goes by that she doesn't feel extremely grateful for the opportunity  — beginning with finding out that she'd landed the part. "It was so funny: On Yahoo!, I was trending in the top five, my name. And I think potato salad was one above me, which was funny," she recalls. "It was right around the Fourth of July, so like red potato salad and then my name, and I was like, 'Oh my God! I've never had that!' And I had friends randomly [reaching out], saying, 'How did you get the role? How did you get the role?' And I was like, 'How are you people knowing this?!' I called my husband finally, when I got in touch with my manger, and I said, 'Oh my gosh, so everything is official, everything is good?' And he said, 'Yep, it's official,' so I called my husband, and I said, 'Honey, I got the job!' And he goes, 'I know. I saw it on Twitter!'"
The pair joined a circle of friends and family in a local New Jersey pub to toast to the actress' new journey, and though it was a special occasion, she shares that breaking the exciting news to her mother took the cake. "My mother was thrilled. She was just absolutely thrilled, and every time I think about it, I just get all choked up," she says. "My mom was just over the moon. I called her from the airport when I was flying home, because I found out the day I was flying home. And… I was so thrilled to call her and tell her, because she loves the show, and she's always happy for me. She was like, 'Oh my gosh!' and she started crying on the phone. And then we were both crying, and I'm going through airport security, going, 'I know! I'm so excited!' So yeah, we were both pretty psyched."
And thankfully, viewers of the show have seemed to react in the same way. "I feel completely like as if the court has spoken," she says. "Like, the court has said, 'We take you in. We are going on this journey with you.'
"I'm always reaching out to the fans and you know, I haven't been saying very much on the show, so hopefully they'll feel the same after I've had encounters with their favorite characters!" continues. "[But] I think that they'll be pleased. Boy, the writing is good. It's really, really good… and I'm so grateful."