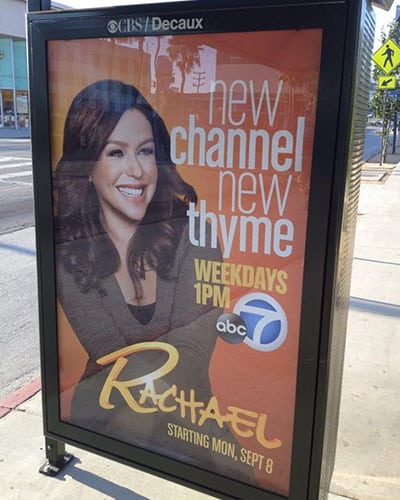 With the new television season kicking off in just a few weeks, ABC stations that signed up to air the no longer in production daytime talker "Katie" in 2012, following ABC's decision to secede the 3:00 PM ET/2:00 PM PT network time slot to their affiliates in hopes that most of them would choose to pick up the talk show, has resulted in some of those stations deciding to move the network's "General Hospital" back to where it aired for more than 25 of its 51+ year run, it was confirmed today by ABC.
"'GH' is moving, in a few markets, to where it aired for 25+ years, and that is a positive for the show," said the network in statement without revealing which stations had chosen to move "GH's" time slot, although per TV Guide's Michael Logan, some of the stations making the switch include top rated ABC Owned & Operated stations WABC in New York and KABC in Los Angeles. In fact, a poster promoting the move of "The Rachael Ray Show" to a "new channel, new thyme" (referring to the herb the host uses in some of her dishes) shows it taking over "GH's" 1:00 PM slot on KABC beginning Monday, September 8, which marks the premiere of its ninth season. The talk show will continue airing on WABC at 10:00 AM per advertisements currently appearing on buses, in train stations and billboards across New York City.
READ MORE: GH' Set to Switch Time Slots
It's understood that KABC's new season lineup will consist of "The Chew" remaining at 12:00 PM, "The Rachael Ray Show" debuting at 1:00 PM, "General Hospital" moving to 2:00 PM and "The Dr. Oz Show" returning to 3:00 PM as the lead-in to "Eyewitness News at 4:00 PM." Meanwhile, it's unclear at this time which show will be replacing "GH" in its 2:00 PM time slot on WABC as "The Chew" is expected to remain in its 1:00 PM slot with "GH" switching to 3:00 PM, where it'll lead into WABC's "Eyewitness News at 4:00 PM" with Liz Cho and Dave Navarro.
Details on the date and which additional markets will be affected by the transition will be coming soon, a network rep tells Soap Opera Network.