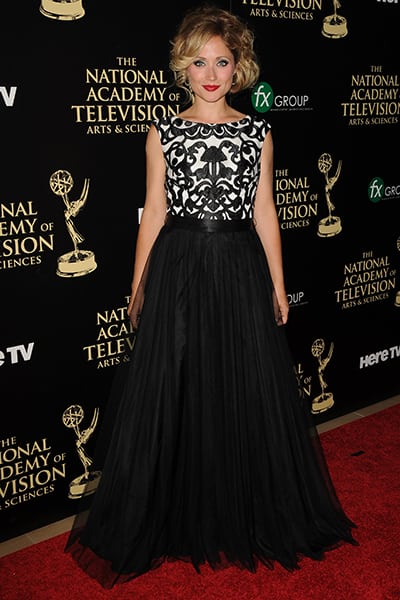 The 41st Annual Daytime Emmy Awards may be over, but the after-event fun has just begun! Soap Opera Network caught up with many of your favorite daytime stars on the red carpet, and we'll be bringing you lots and lots of interviews in the days to come. First up is the beautiful Emme Rylan, who plays Lulu Spencer on ABC's "General Hospital." Enjoy!
Soap Opera Network: Your dress is gorgeous. Who's the designer?
Rylan: This is Aidan Maddox. I learned a couple minutes into the red carpet. I made someone look at my tag, because I didn't know!
Shame on you, Emme! You've done this enough times. You should know to learn that info by now!
I know! I know. It's unacceptable.
Well you have kids now: You can just blame it on them.
Haha, yes! I blame everything I can on them. "The children, really. They ripped the tag out of my dress. It wasn't my fault." [Laughs] But really, I found it in the dress hunt, and I really liked it. It was black and white, which is something different than I've ever done. I did a 5k color run yesterday and I couldn't get the dye out of my hair, so the ends of my hair are blue and green right now, so I have an up-do, which I've never done before. It's so different for me to wear it up, but I had to, because I have multi-colored hair!
That's hilarious. I like the up-do though; you look beautiful. So, take me through your day leading up to the red carpet: When did you wake up and what did you do leading up to arriving at tonight's event?
[My youngest son], Levi, just got moved this week from his crib to his big boy bed, so now when he wakes up, I can hear him in the monitor: He wakes up, he realizes he's free to get out, because it's not a crib anymore, and he leaps out of the bed, and you hear, "Thump, thump, thump," and partially I think because he's scared for his life, like, "I'm alone!!!" And I heard him this morning, and then he swings the door open, and he was like, "MAMMA!!!! Read this book." So that's how I started my day, and that was at like 7:30. Then I hiked Runyon Canyon with [my friends] Natalie and Rene, my girls that I hang out with when I'm getting ready for the Emmys. So we went and did Runyon, had coffee, went to Rene's house and had another girlfriend come over and bring mimosas. We had the music blasting, and it was basically a breakfast party. And then Natalie does my hair and makeup while we party. It's so nice, we've turned it into this girl party morning. And then they drop me off. It's fun. It's morning friend bonding and then coming to work and hanging with your work peeps all day. So it's like the perfect day.
Perfect expect that unfortunately, "GH" wasn't strong this year in the awards race; how do you feel about that, and is there anyone that won that you're really proud of, despite not being on your show?
Eileen Davidson [Kristen DiMera, "Days of our Lives;" Ashley Abbott, "The Young and the Restless"]! I screamed and leapt out of my chair like a crazy person. She's so awesome. She's awesome, awesome, awesome. But honestly, I felt, as the categories came up and people's names were being announced, I was like, "Oh yeah, he's good. Oh, he's good, too. Oh, and he's good, too." And I just thought, you know, we're kind of at that place right now where the soaps have kind of been narrowed down, and they weeded themselves down to the best of the best. And I really feel like every category was like, "Here are several people who are all awesome." It's so hard to choose! I know it's the cliché thing to say, "Everyone is really good, and we all deserve it," but really and truly, in this genre, where shows have gotten cancelled and shows are picking from those shows, they're like all-star teams now! Everyone is so freaking good! So we don't feel discouraged or anything. It's like we're passing the baton. One year it belongs to someone, and the next it's someone else's year. I mean, I could pick any of those shows to be best show. I could pick any of those actors to be best actor. So we're just going pass the baton around, and it's an excuse to party with each other.