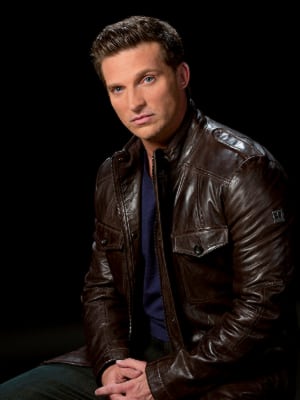 Although CBS is not broadcasting the awards itself this year, the network announced today that it'll celebrate "The 41st Annual Daytime Emmy Awards" with six days of Twitter chats with several of its stars, producers and executives from CBS Daytime's "The Young and the Restless," "The Bold and the Beautiful," "The Talk," "Let's Make a Deal" and "The Price is Right." The chats will take place every weekday beginning Friday, June 13 and running through Friday, June 20, leading up to daytime's biggest night on Sunday, June 22.
While he isn't nominated for an Emmy this year, "B&B's" Sean Kanan kicks things off beginning tomorrow, June 13, which also happens to coincide with his return to the world's most watched daytime soap opera when his character Deacon Sharpe reunites with his daughter, Hope Logan (Kim Matula). Also taking part in Twitter chats are "Y&R's" Steve Burton (Dylan McAvoy), Doug Davidson (Paul Williams) and Christian Le Blanc (Michael Baldwin), "B&B's" Heather Tom (Katie Logan) and Scott Clifton (Liam Spencer), "Deal" model Tiffany Coyne, "Price" executive producer Mike Richards and CBS Daytime Senior Vice President, Angelica McDaniel. "Talk" hosts Julie Chen, Sara Gilbert, Sharon Osbourne and Sheryl Underwood will jump-start Daytime Emmy Week with a live group chat on Monday, June 16.
With 60 nominations overall, the most for any network, CBS is the most watched broadcast network in the daypart. "Y&R" received 26 nominations, more than any other show. "B&B" received 18 nominations, "The Talk" received five, "Deal" received three and "Price is Right" received two nominations.
Listed below is the full schedule for the live Twitter chats, along with the Twitter handles for each participant:
FRIDAY, JUNE 13
1:30 PM, ET/ 10:30 AM, PT: THE BOLD AND THE BEAUTIFUL (#BoldandtheBeautiful)
MONDAY, JUNE 16
4:00 PM, ET/1:00 PM, PT: THE TALK (#talklivechat)
Julie Chen (@JulieChen)
Sara Gilbert (@THEsaragilbert)
Sharon Osbourne (@MrsSOsbourne)
Sheryl Underwood (@sherylunderwood)
TUESDAY, JUNE 17 
12:30 PM, ET/ 9:30 AM, PT: THE YOUNG AND THE RESTLESS (#YR)
Steve Burton (@1SteveBurton)
Doug Davidson (@DougDavidsonYR)
Christian Le Blanc (@CJLeBlanc)
1:30 PM, ET/ 10:30 AM, PT: THE BOLD AND THE BEAUTIFUL (#BoldandtheBeautiful)
Heather Tom (@BBheathertom)
Scott Clifton (@CliftonsNotes)
WEDNESDAY, JUNE18
10:00AM, ET, 7:00AM, PT: LET'S MAKE A DEAL (#LMAD)
Tiffany Coyne (@TiffanyCoyne)
THURSDAY, JUNE 19
11:00 AM, ET/ 8:00 AM, PT: THE PRICE IS RIGHT (#PriceIsRight)
FRIDAY, JUNE 20
4:00 PM, ET/1:00 PM, PT: Senior Vice President, CBS Daytime
Angelica McDaniel (@AngelicaMcD)