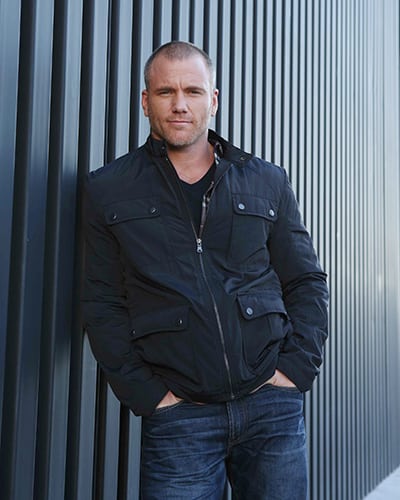 "The Young and the Restless" fans have gotten to know quite a bit about Sean Carrigan's Dr. Ben "Stitch" Rayburn since the actor joined the show nearly a year ago, but when Soap Opera Network recently caught up with the Virginia native, he revealed that there's much more — and we mean much more — to Stitch than meets the eye. Read on for details about the shocking secret the doc has been hiding from Victoria (Amelia Heinle) and what it's been like for Carrigan to work with Genoa City's patriarch, Eric Braeden (Victor Newman)!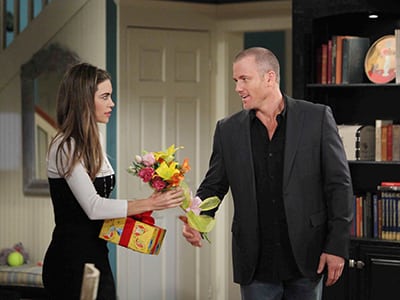 Soap Opera Network: Things between Stitch and Victoria are certainly heating up. Do you think it's going to lead to something real?
Sean Carrigan: Yes!
SON: Maybe not good news for Victoria/Billy (David Tom) fans, but hey — this is a soap opera we're talking about! What is it about Victoria that Stitch likes so much?
Carrigan: I think he sees how great of a woman she is. He just sees so much good in her, and it reminds him of his wife and how much he's lost. And he's lonely. He's lost his wife and his kid, he sees this beautiful, amazing woman in Victoria, and he's falling for her.
SON: Has it been much of a concern for him that she's married to Billy?
Carrigan: Yeah, that's a concern for him. But I think it's a bigger concern that, in the end, he's hiding the same secret from her that he hid from his wife, and it's why his wife left him. Which you'll end up finding out.
SON: Such a tease! Is this the direction you saw coming for your character?
Carrigan: They let me know a long time ago where they were going with my character so I could start sprinkling in inner life every once in a while in the different scenes, and I always have that in the back of my mind, his backstory. So that helps.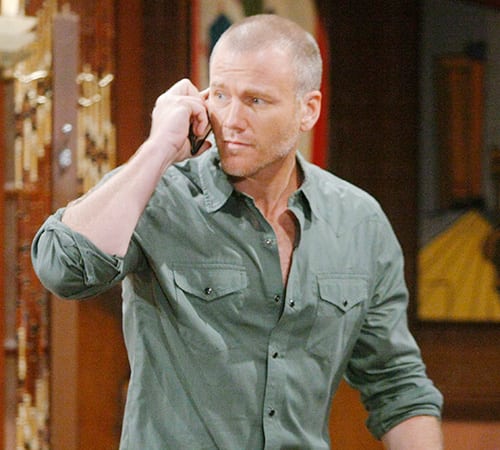 SON: Is there anything more specific you can reveal about this big secret he's hiding?
Carrigan: I don't know that I'm allowed to say anything. I've been told that all I can say is there's much more to Stitch than what he appears to be!
SON: Fair enough. How much are you like Stitch, and in what ways are you different?
Carrigan: Well, I don't have a huge secret that I'm hiding from the world, so there's that! Um, I think the doctor part is very different from who I actually am, so I've had to learn how to hold myself a little more as a doctor in scenes in the hospital. Yeah, the hospital scenes are where Stitch and I are very different. The rest is a lot like me. I love junk food, just like Stitch does. Sometimes they write these scenes where I'm eating hot dogs and hamburgers, and I think to myself, 'Oh my god, do they know me?! Do they like follow me around on weekends?!' So I think they have a good handle on who I am as a person and who Stitch is. But I think the scenes where Stitch and Sean are a bit different are the hospital scenes.
SON: How have you gone about bringing out the "doctor" side of you?
Carrigan: My best friend's brother is a doctor, so I asked him lots of questions. When I first started, I felt foreign walking around in the lab coat and the scrubs, and then I asked him, 'When you're walking around, what are you thinking about?" And he just told me, when you're walking around as a doctor, you're thinking about your next case. You have to think about that as you're walking into the room; you're constantly thinking about the next case that you're going to come across. It's been very helpful, trying to get into the mind of a doctor.
SON: Is there anybody outside of the Victoria situation that you've been working with a lot lately?
Carrigan: I've gotten to work with Eric Braeden a few times, which I was so excited about. The guy is a living legend. It's amazing. He's the Mickey Mantle of daytime. It was awesome. You realize when you're working with him, 'Oh my god, I'm working with greatness right now. I've got to make sure I bring it!'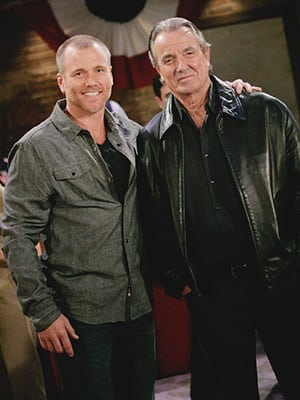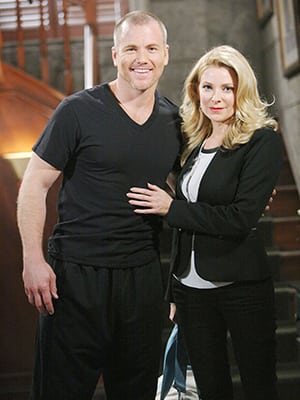 SON: What about Cady McClain (Kelly Andrews)? What has it been like working with her?
Carrigan: Yeah, we have some stuff coming up. I just recently met her actually, and she's awesome.
SON: Did you Cynthia Watros (ex-Kelly) get to know each other very well?
Carrigan: I became very great friends with Cynthia. We had some great chemistry, so I was sad to see her go. But I'm also very excited to have Cady. I know she's a fantastic actress, and I look forward to creating new chemistry with her.