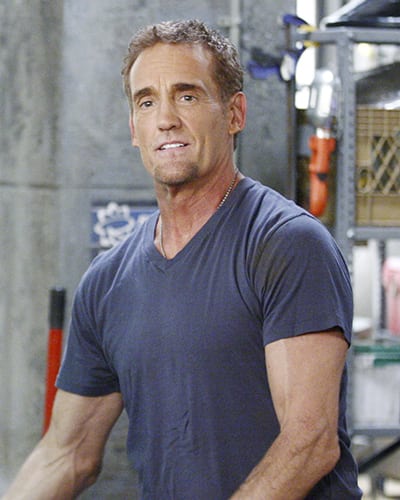 You may remember John Wesley Shipp from his role on "One Life to Live" as the abusive father of the Ford brothers. Or you might know him from his memorable role as football coach Mitch on "Dawson's Creek." Before both of those roles though, John Wesley Shipp was THE FLASH!
In the early 90's, Shipp starred as the lead in a short-lived CBS series based on the popular comic book character Barry Allen AKA The Flash. It's been known for a while now that the CW network intends on remaking the series, but now comes word that Shipp will be playing a mystery role in the show!
According to Entertainment Weekly, who exactly Shipp will be playing is being kept under wraps. He will appear in the pilot episode, with the thought that his character would be a recurring guest star if the series is picked up by the CW for additional episodes.
He definitely WON'T be playing an older Barry Allen however. As introduced on CW series The Arrow, 24 year old actor Grant Gustin ("Glee") will be portraying The Flash this time around. Rounding out the cast will be Candice Patton ("The Game,") Danielle Panabaker ("Friday the 13th,") Tom Cavanagh ("Ed,") and Jesse L. Martin ("Law and Order.")
"The Flash" originated as a comic book character in 1956 by writers Robert Kanigher and John Broome. After a freak accident involving a lightning bolt, police scientist Barry Allen is suddenly given the ability to move extremely fast. Despite being a popular DC Comics property, The Flash has only starred in his own live-action series once – in Shipp's 1990 version. He has appeared in numerous animated series, including "Super Friends" and most "Justice League" animated films.
If the CW chooses to pick up the series, we can expect to see it later this year.