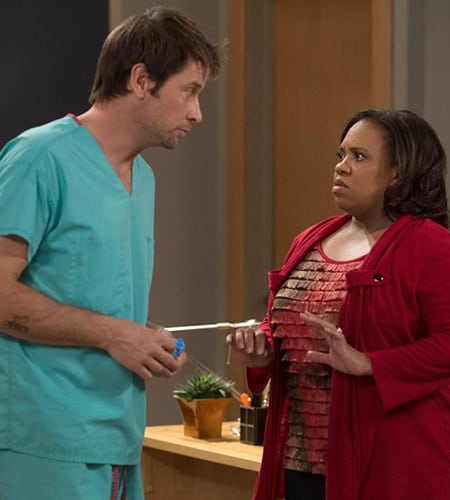 As previously reported, "Grey's Anatomy" star Chandra Wilson (Dr. Miranda Bailey) will appear on the Wednesday, January 29 episode of ABC's "General Hospital" as Tina Estrada, a patient of Dr. Kevin Collins (Jon Lindstrom), who goes to General Hospital for her regularly scheduled appointment. According to the network, Tina comes face to face with an unfamiliar nurse in the episode and demands to know why HE is in her doctor's office. The "nurse" is actually reformed serial killer Franco (Roger Howarth), as noted in the picture above, who is hiding out from the police after a warrant is issued for his arrest in the disappearance and possible murder of Carly Corinthos Jacks (Laura Wright).
In an interview with TV Guide Magazine's Michael Logan on newsstands now, Wilson reveals that her "GH" character is not that much different from her role on "Grey's" and that if asked, she'd return to the daytime soap opera in a heartbeat!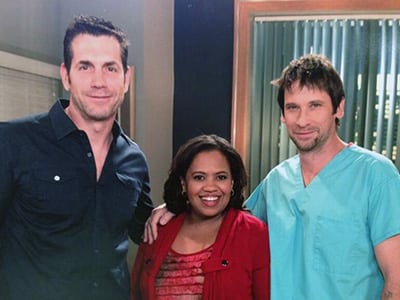 On the similarities between Tina Estrada and Miranda Bailey, and how Tina crosses paths with Franco, Wilson says, "Oh, we definitely have some fun and pay a little tribute to Bailey. But Tina has her own set of troubles. She goes to see her shrink, Dr. Kevin Collins, for their usual appointment at the hospital, but he's not there. Instead, she finds reformed serial killer Franco in Dr. Collin's office, and he's clearly up to no good. [Laughs] And he desperately wants Tina to go away!"
As for if we can expect to see her appear again after the Wednesday, January 29 episode, the actress shares, "[Executive Producer] Frank Valentini did hint around that he might invite me to return. I said, 'Oooh, don't you play with me, now!' Because, trust me, I would do it again in a heartbeat."
"Grey's Anatomy" returns from its winter hiatus with new episodes on Thursday, February 27. "General Hospital" airs Weekdays on ABC, anytime on ABC On Demand, Hulu and Hulu Plus.