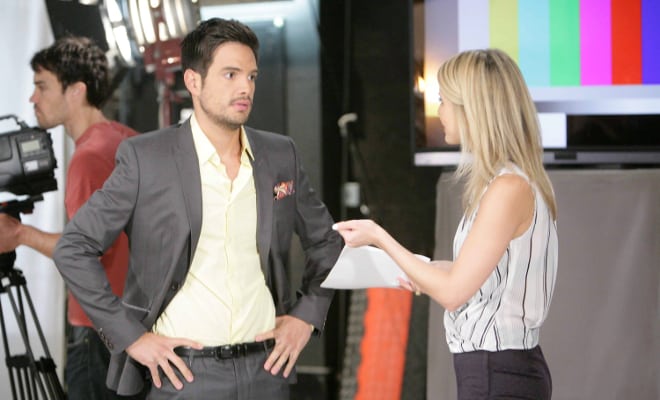 CBS Daytime announced today that Mexican telenovela, film, stage actor and musician Andy Zuno has been cast in the recurring role of "Rafael" on the networks "The Bold and the Beautiful." While fans have already caught their first glimpse of the latin superstar on the soap opera as he first appeared on the Thursday, June 20 episode, many probably didn't know much about the actor or the character.
"Andy is a talented young actor and is a great addition to our cast," said Executive Producer and Head Writer Bradley P. Bell. "He brings forward a strong comedic talent that plays perfectly into the hot and ground-breaking story we will begin telling this summer."
Viewers will recall that Rafael's current storyline revolves around Caroline's (Linsey Godfrey) desire to launch a web series starring Maya (Karla Mosley) and Carter (Lawrence Saint-Victor).
Best known for his portrayal of "Hugo Arango" on the telenovela "Al Diablo con Los Guapos," for which he won a FAMA Award for Best Supporting Actor, Zuna has also starred on Spanish language programs such as "Pasión," "Mujer Casos de la Vida," "Decisiones Extremas," "Loteria" and "Amar de Nuevo."
Zuno got his start on the big screen in 2004 when he was cast in the film "Emisario del Odio." He also has an extensive background in theater, including roles in "The Play About Baby," "The Goat," "Te Odio," "La Luna 100 Watts," "El Códex Romanoff," "Unos Cuantos Piquetitos" and "Innana Queen of Heaven and Earth." He received the Association of Theatre Journalists Award for Best Leading Actor for his performance in "Mentiras."
In addition to television and film, Zuno is a talented musician. In June of 2010, he released his first single as a solo pop artist, "Suma de Dos," from his debut album Andy Zuno: Mas de Una Vida.
"The Bold and the Beautiful" is the first and only daytime drama to simulcast in Spanish utilizing SAP (Secondary Audio Program) technology. Zuno will translate his own character into Spanish for "B&B's" SAP simulcast.