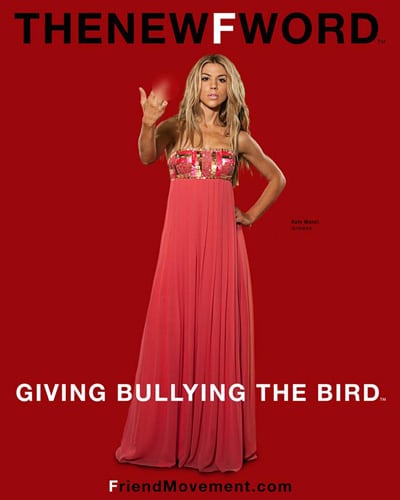 It's not every day that you'll see daytime stars going rebel and giving the bird, but that's all about to change. In support of The Friend Movement, a grassroots anti-bullying organization, several sudser stars have posed for provocative photos in which they give the camera — and bullying — the middle finger.
"Days of our Lives" stars Kate Mansi (Abigail Deveraux), Freddie Smith (Sonny Kiriakis), Wally Kurth (Justin Kiriakis), Nathan Owens (Cameron Davis), and "The Young and the Restless'" Melody Thomas Scott (Nikki Newman) are just the first daytime stars to join talent like LeAnn Rimes, Adam Lambert, Lance Bass, Rumer Willis, Carmen Electra and Cloris Leachman for the organization's "The New F Word" campaign, which hopes to create a confident inner monologue for everyone, especially those teens who've experienced various types of bullying.
For more information on the campaign, as well as a full list of stars participating and information regarding a fundraising benefit concert planned for Monday, July 1 in Los Angeles, visit glaad.org or friendmovement.com.