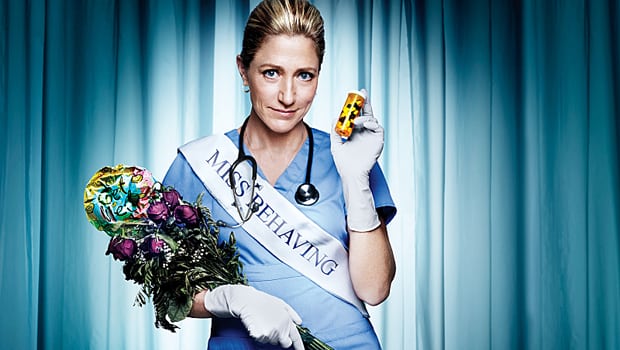 Showtime has renewed its hit series "Nurse Jackie" for a sixth season, the network announced today. The series stars Emmy® Award-winning actress Edie Falco as Jackie Peyton, a strong-willed and brilliant – but very flawed – emergency room nurse.
"'Nurse Jackie' is an essential part of the Showtime brand, and we are thrilled with the series' growth in its fifth season," said David Nevins, President of Entertainment, Showtime Networks Inc. "Under the new leadership of Clyde Phillips, and with an amazing cast led by Edie Falco, this show is as sharp and compelling and entertaining as ever. I'm excited to get to see the next chapter in Jackie's life."
Airing Sundays at 9:00 PM ET/PT, the fifth season of "Nurse Jackie" concludes on Sunday, June 16.
Emmy Award nominee Clyde Phillips serves as showrunner and executive producer. Caryn Mandabach, Richie Jackson and Tom Straw also serve as executive producers. Production for the sixth season will begin this fall in New York.