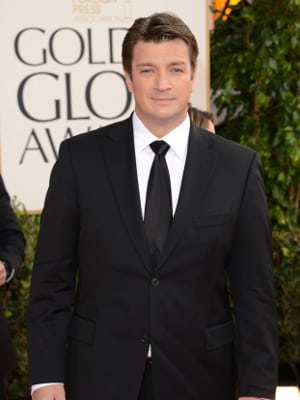 Before landing "Castle," Nathan Fillion did a lot of whacky stuff as "One Life to Live's" Joey Buchanan (including losing his characters virginity to Robin Strasser's Dorian Lord!), but his latest gig just may take the cake: According to Entertainment Weekly, he'll be voicing an animated character in Pixar's "Monsters University," a prequel to the popular "Monsters, Inc."!
Billy Crystal (Jodie Dallas, "Soap"), John Goodman and Steve Buscemi will be reprising their voices from the 2001 film, and in addition to Fillion, more stars will be lending their vocal talent to the film: John Krasinski ("The Office"), Bonnie Hunt ("Cheaper by the Dozen," "Life With Bonnie"), Sean P Hayes ("Smash," "Will & Grace"), Charlie Day ("Horrible Bosses," "It's Always Sunny in Philadelphia"), Aubrey Plaza ("Parks and Recreation"), Alfred Molina ("Spider-Man 2"), and Helen Mirren ("The Queen").
For more information on the film, which hits theaters on Friday, June 21, head on over to Disney.com.