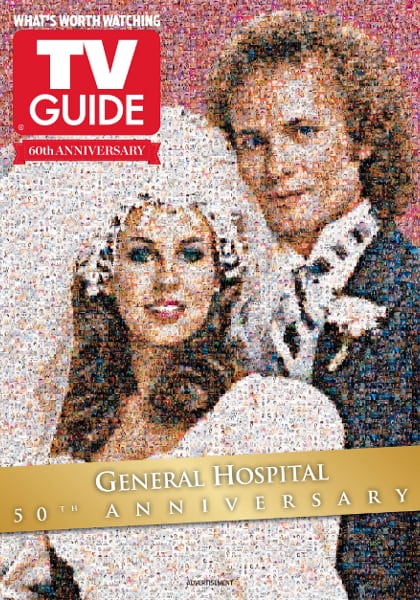 In the 60th anniversary special double issue of TV Guide Magazine (April 8 – 21, 2013), ABC's "General Hospital" secured a four-page spread on its 50th anniversary, but Luke and Laura Spencer (Anthony Geary and Genie Francis) ultimately secured the biggest spotlight of them all. The dynamic duo, in their famous wedding shot compiled of past covers of TV Guide Magazine, received the back cover spot of the mag which features the hit shows from every decade since the publications launch including "I Love Lucy" (1950s), "Star Trek" (1960s), "The Mary Tyler Moore Show" (1970s), "The Cosby Show" (1980s), "The Simpsons" (1990s) and "Lost" (2000s) on special collector's edition front cover copies of the celebratory issue.
Fans will be in for a treat as Michael Logan takes up pages 94-97 with "50 & Fabulous," which gives insight and bold interviews from the stars of the show including Kristina Wagner (Felicia Jones), Jane Elliot (Tracy Quartermaine), Kin Shriner (Scott Baldwin), Jackyln Zeman (Bobbie Spencer), Geary and Francis, and even executive producer Frank Valentini, among others. Some of the most revealing parts of the interview includes:
"Just as Felicia had moved on with her life, I'd moved on with mine," said Wagner of her divorce from her recently returning co-star ex-husband Jack Wagner (Frisco Jones). "The idea of reuniting with Jack on screen was a very sensitive issue for me – in fact, I was dreading it. But I knew it was important to the show and to the anniversary, so I hung in there. And you know what? It turned out really well, so it was a blessing. And very cathartic. But then," adding with a laugh, "it probably helps that Felicia sends Frisco packing."
To learn more, the 60 anniversary special double issue of TV Guide Magazine is on sale now at a newsstand near you.