Erika Slezak: 'Fans Will Be Very Happy' With the New 'OLTL'
The OnLine Network/TOLN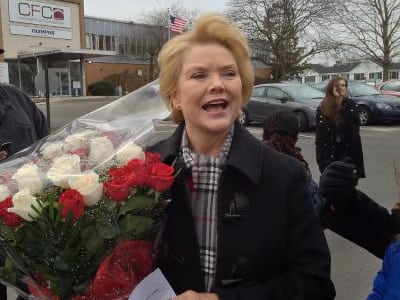 "One Life to Live's" longest serving cast member Erika Slezak (Viki) has released a new statement on her official website saying that Prospect Park is "working very hard to get everything right" for the online version of the long-running soap and says that cast and crew are "hoping for our former audience to return and continue to enjoy and for our new audience to get to know us."
Slezak, the six-time Daytime Emmy winner who has portrayed Victoria Lord since 1971, has nothing but praise for her new bosses and thanks the contingent of loyal "One Life" fans who braved the snow and cold weather to welcome the show's stars back to work when filming began last week.
Hi, I thought I would let you know how it all went. Monday and Tuesday were fairly easy days for me. The production team is working very hard to get everything right. We have beautiful sets and wonderful new costumes. The studio itself is large and spacious with great dressing room space and everything seems to be working! On Monday, our Prospect Park producers Rich Frank and Jeff Kwatinetz were on hand to welcome everyone and there is a wonderful sense of excitement throughout. The scripts are really good, and I think the audience will be very happy with what One Life to Live is doing. Viki and Dorian are at it again and what fun that is. We have some marvelous new actors, Robert Gorrie is Matthew Buchanan, Laura Harrier is Destiny and we have Corbin Bleu joining the cast as a reporter for The Banner, who I believe will be a very important character. That's about all that I know so far – we are having fun and hoping for our former audience to return and continue to enjoy and for our new audience to get to know us. We had a lovely group of fans come to the studio on our first shooting day. They came with flowers and balloons and were very excited to be there in spite of the bitter cold. A group of cast members went outside to greet them and lots of pictures were taken. Our first air date is April 29th, beginning at noon. So tune to Hulu, Hulu plus or Itunes after noon on the 29th and we'll all be together again. Erika
Slezak also confirmed that "One Life's" taping schedule "will be conducted 5 weeks on and 5 weeks off," and provides fans with the studio address where they can write to her and her co-stars.
Write to:
The Connecticut Film Center
One Life to Live
300 Stillwater Ave
Stamford, CT 06902