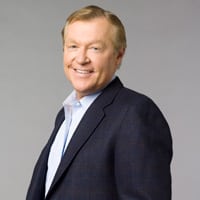 As he did back in 2011 when news of Prospect Park's plan to move "All My Children" and "One Life to Live" to the web first hit, actor Jerry verDorn has announced that he will be returning to Llanview once more as Clint Buchanan. The actor made the announcement yesterday evening on his Facebook page:
Hello Everybody. One Life Lives. And good things come to those who wait. Or so it is said. About an hour ago I agreed to be part of the OLTL revival and I'm thrilled to be involved in entertainment history as the show we love moves to other formats. The fans consistent drum beat of support played a large part in Prospect Park never giving up trying to find a solution. And today they announced it to the world. With the cherry-on-the-top-news that Agnes Nixon has been hired as a consultant! For those who doubted, I don't blame you as this has never been done before. For those who never lost hope and never stopped writing and calling, well, good things come to those who wait. Congratulations to you all. Welcome back to Llanview. Love, jerry verDorn.
verDorn is the first "One Life to Live" actor to sign on for the project set to begin production in February. "All My Children" has already signed actors Lindsay Hartley, Vincent Irizarry, Debbi Morgan and Darnell Williams.
When news of Prospect Park decision to postpone plans to reboot both soaps back in November 2011 came out, verDorn said, "Don't blame Prospect Park but rather blame the economy. They lost some financing that was too hard to replace. Start-up money is near impossible to find these days. Who knows what may happen. I guess my birthday present this year is retirement. Love to all." Thankfully, this time around financing seems to now be in place according to an official announcement from Prospect Park and verDorn can come out of retirement.