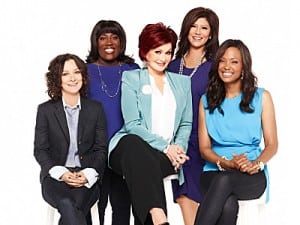 via Press Release
"THE TALK" CELEBRATES 25 SEASONS OF "SURVIVOR" WITH SPECIAL COMMEMORATIVE SHOW, SEPT. 19
THIS JUST IN…
…from CBS Entertainment
THE TALK Will Feature Appearances By Upcoming "Survivor: Philippines" Castaways, Medical Evacuees Michael Skupin, Jonathan Penner and Russell Swan, and Lisa Whelchel (Blair from "The Facts of Life")
CHEAT TWEET: #THETALK celebrates 25 seasons of #SURVIVOR w/special show & fan fave contestants 9/19, 2pmET/1pmPT
http://bit.ly/UfPT4v
CBS daytime talk show THE TALK will celebrate SURVIVOR's 25th season with a special commemorative show, on Wednesday, Sept. 19 (2:00-3:00 PM, ET; 1:00-2:00 PM, PT) on the CBS Television Network.  The show will feature appearances from upcoming SURVIVOR: PHILIPPINES castaways: Medical Evacuees Michael Skupin, Jonathan Penner and Russell Swan, as well as Lisa Whelchel (Blair from "The Facts of Life").
Hosts of THE TALK will also participate in a SURVIVOR challenge on stage and the audience and viewers at home will have a chance to win SURVIVOR-themed prizes.
SURVIVOR: PHILIPPINES returns Sept. 19 for its 25th season with a special 90-minute edition (8:00-9:30 PM, ET/PT) on the CBS Television Network.    The show is hosted by Emmy Award winner Jeff Probst and produced by SEG, Inc.  Mark Burnett, Jeff Probst and David Burris are executive producers and Leisa Francis is co-executive producer.  For more detailed information on SURVIVOR: PHILIPPINES and the castaways, log on towww.cbs.com/survivor.  Photos are available at www.cbspressexpress.com.
THE TALK, CBS's daytime talk show features a panel of well-known news and entertainment personalities discussing current events, pop culture, contemporary issues, family, celebrity and the trending topics of the day. The daily one-hour series is co-hosted by Julie Chen, Sara Gilbert, Sharon Osbourne, Sheryl Underwood and Aisha Tyler. John Redmann and Gilbert, who developed the show, are executive producers.