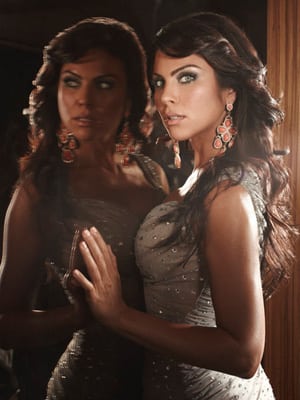 After her character was shamed out of Salem last year prior to the major "Days of our Lives" reboot, Nadia Bjorlin is returning to the NBC Daytime drama series in the coming months as a "stronger and more confident Chloe [Lane] who can really stand up for herself and not be bullied," so says the actress in an interview with TV Guide Magazine's Michael Logan.
According to TV Guide, Bjorlin begins filming at "DAYS" in late September, but she won't make it to air until January 4, 2013, which is an unusual length of time from film to air, unless you work at "DAYS," which for the past several years has been filming months ahead of airdate in order to save on production costs.
A rep for "DAYS" says Bjorlin's storyline will be heavily centered around her characters child, Parker Kiriakis. There is no word yet as to whether the show plans on bringing back Parker's father, Philip Kiriakis (last played by Jay Kenneth Johnson) as part of the upcoming storyline.
Soap Opera Digest is reporting that Bjorlin's return is not a long-term deal, but that doesn't mean the actress will be appearing for a short-term one either.