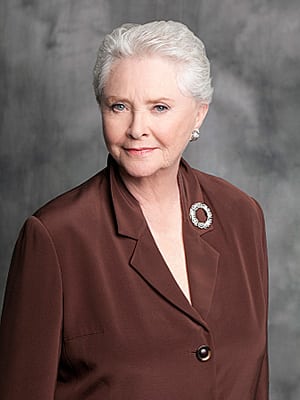 Soap Opera Digest held off on reporting any news of Susan Flannery's reported decision to leave CBS' "The Bold and the Beautiful" yesterday, but today there seems to be a reason why. According to the magazine's website, Flannery is staying on as Stephanie Forrester.
In CBS Soaps In Depth's report yesterday, they indicated that Flannery had signed a short-term contract with "B&B" that will allow the series to write her character off the show, but according to Bradley Bell, Head Writer and Executive Producer of the soap, "Susan, for quite some time, was thinking she needed a break or just have some personal time." He further states, "She's been through a lot personally; we know that she had her own battle with cancer and she's had such an amazing career that she will continue to have as Stephanie Forrester, but I think it's not so much as a disagreement between her and the show, but more Susan figuring out where she is right now and what she needs. Now, Susan is going to have an incredible time with a new storyline that we've never seen before; something completely unique and interesting."
While Bell's statement doesn't necessarily add much contradiction to In Depth's reporting, Digest states it will have the full story in its next issue (due out Friday).
"It will never be the same now without Ronn and Susan. Sad!" said Katherine Kelly Lang (Brooke Forrester) yesterday, in response to a twitter follower who had just learned of Flannery's departure.