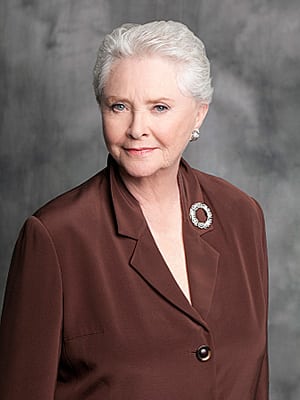 Soaps In Depth is reporting that CBS' "The Bold and the Beautiful" is about to lose another "core four" member as Susan Flannery (Stephanie Forrester) has informed producers and the shows writing team that she plans to leave the series at the end of her newly signed short-term contract. Flannery, like the departing Ronn Moss (soon-to-be ex-Ridge Forrester), has been with the show since it debuted on March 23, 1987 – more than 25 years ago!
With Katherine Kelly Lang (Brooke Forrester) renewing her contract late last week, that leaves John McCook (Eric Forrester) as the only core member whose status with the show remains a mystery.
According to In Depth, Flannery opted to sign a new short-term deal in order for the shows writers to adequately write her character out of the series. Unlike Moss, however, viewers shouldn't expect the show to recast Stephanie Forrester as head writer Bradley Bell indicated they would do with the character of Ridge Forrester sometime down the road.
A representative for the soap did not immediately respond to a request for comment at press time to Soap Opera Network.
On Saturday, August 18, Flannery joined Moss and "The Young and the Restless" stars Doug Davidson (Paul Williams) and Tracey E. Bregman (Lauren Fenmore) for "The Young and Restless Life of William J. Bell" book signing. Co-authors Lee Phillip Bell and Michael Maloney were also in attendance.