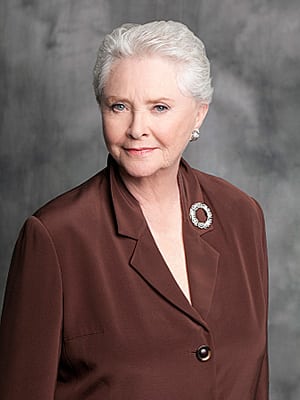 Soap Opera Network has learned that Susan Flannery (Stephanie Forrester, "The Bold and the Beautiful") has been added to the "Young and Restless Life of William J. Bell" book signing being held today from 2:00 PM to 4:00 PM at Barnes & Noble located at 4820 Telephone Road  Ventura, CA 93003.
As previously reported, Ronn Moss (Ridge Forrester, "The Bold and the Beautiful"), Doug Davidson (Paul Williams, "The Young and the Restless") and Tracey E. Bregman (Lauren Fenmore, "The Young and the Restless") will join co-authors Lee Phillip Bell and Michael Maloney at the wristband required event (see full details below).
Per a representative for the book store:
Books to purchase and wristbands will be available at our cash-wrap on the first floor. The line for the event and the event will be upstairs on the second floor.
Our cashiers will begin handing out wristbands when we open at 9:00 am. To get a wristband a customer must either purchase a copy of the book, or bring a receipt with their book to show the cashier. Books purchased ahead of time and from other vendors are acceptable with a receipt. Customers may begin lining up by wristband number at 1:00 pm.
Please note that while the event is listed as being from 2:00 pm to 4:00 pm we may not keep the authors & cast all the way until 4:00 pm if they finish signing earlier. This means customers should arrive towards the beginning of the event so they don't miss out.
Questions or Concerns? Call (805) 339-0990 to speak to a customer service representative.