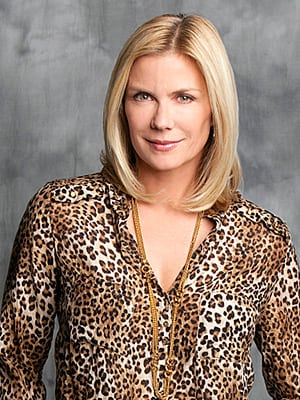 A week after word leaked that Ronn Moss (Ridge Forrester) opted not to renew his contract, CBS' "The Bold and the Beautiful," now in its 26th season, has worked overtime to not lose another member of its "core four" (the soaps four original cast members).
Katherine Kelly Lang (Brooke Forrester), who revealed on her Twitter page that she was crying when she found out Moss would be leaving the soap, has released a statement (posted by Soap Opera Digest) that she has signed a new two year contract with the daytime drama series.
"I'm very happy to tell you that I have re-signed my contract with 'The Bold and the Beautiful' for two more years," said Lang. "Brad [Bell, Executive Producer/Head Writer] has come up with an exciting new storyline for Brooke that I think the fans are going to love."
Lang, along with Moss, Susan Flannery (Stephanie Forrester) and John McCook (Eric Forrester) are the only four remaining original cast members of "B&B." They've appeared on the soap ever since its launch on March 23, 1987.
With Moss departing, the "core four" now becomes the "core three." The actors last airdate is scheduled for Friday, September 14.