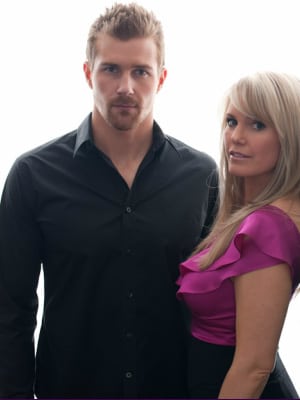 (SoapOperaNetwork.com) — A look at what's happening on "One Life to Live" during the week of September 5, 2011.
THIS WEEK ON: ONE LIFE TO LIVE
Baz gets good news regarding his and Starr's new single on Thursday, September 8. Later, however, Starr isn't pleased after finding out who wants to record the single. Echo encounters Roxy in Angel Square while trying to take care of something for someone. Roxy is forced to sell her belongings on Friday, September 9. Cutter buys Roxy's most prized possession. And Nigel thumbs his nose at Kim, even though Clint promises to help her. On Monday, September 5, "One Life to Live" will air an encore presentation of the April 6, 2011 episode where Rex and Gigi talk Shane out of jumping off of a roof, Matthew confesses to his parents that he murdered Eddie Ford, Clint is released from jail, and Viki opens up to Téa about Charlie's affair with Echo.
The Inside Story: He Ain't Got No Alibi
John interrogates a suspect in Victor's murder who asserts his innocence on Tuesday, September 6. Téa barges her way into John's office. Later, she slaps Todd, who blasts her for giving her heart to a fraud. John, Brody, and Natalie comb over the forensic report on the gun and make an interesting discovery. John tells Natalie he's sorry for the loss of her uncle.  Todd is left without an alibi, and asks Téa to represent him on Wednesday, September 7. Echo questions Rex about his gun, and later has reason to doubt his claims. Shane overhears Echo and Rex's conversation. Victor's secretary gives Natalie some surprising information about Brody. Todd pleads with Starr to believe him. Natalie is less than forthcoming with John. Baz confides in Starr about Tomas. Téa gives Todd her answer. Tomas receives a mysterious phone call, and afterward reaches out to Blair. Téa  leans on Blair for support. By Friday, September 9, John catches Tomas in a lie, and receives a visit from Shaun with news that could further the investigation. Tomas confronts Baz. And Natalie confides in Brody.
A Closer Look: First Love
Cristian and Jessica wonder if there is still a spark between them on Tuesday, September 6, and ultimately kiss. Meanwhile, Kim takes Cutter by surprise, and tells him something important. Aubrey asks Rama about Kim, however Rama leaves out a few crucial details. On Wednesday, September 7, Cristian and Jessica realize there is still something between there. Cristian presents a memento from the past. Across town, Ford thinks about Tess, who urges him to keep fighting for her, only to find Cristian and Jessica together. Ford wants to know what is going on. Cristian receives an important message. On Thursday, September 8, Erin Torpey returns to change someone's life. Jessica and Ford discuss Cristian and Tess, and reach an understanding. And Cristian has a heart-to-heart with Carlotta. On Friday, September 9, Aubrey questions Cutter about Kim. And, while looking at her old yearbook, Aubrey receives a visit from Kim.
OLTL ALERTS: WEEK OF SEPTEMBER 12, 2011

Natalie finally gets through to Todd.
Starr and Baz don't see eye-to-eye about Rick.
Viki is worried about Clint getting mixed up with Kim.
Téa can't believe what she sees.
Jack vows vengeance for Victor's death.