In 2012, Soap Opera Network published our own version of the annual TV Guide Magazine "TV's Highest Paid Stars" issue. In the time since it was published we've been quite shocked to see how many of you were curious to know how much some of daytime and primetime's biggest and brightest stars of yesteryear have gone on to make with their current work in primetime dramas and comedies, reality shows, and even daytime talk shows. Although we were unable to continue our report in 2013 due to circumstances beyond our control, we thought it would be a great opportunity to continue producing the soap opera edition of one of TV Guide's best selling issues with the release of the 2014 edition.
As was the case in 2012, the 2014 list comprises of former daytime and primetime soap stars who've either gone on to host their own talk show or headline a top ranked primetime series, or in the case of primetime soap stars of the past (and present) – gotten richer!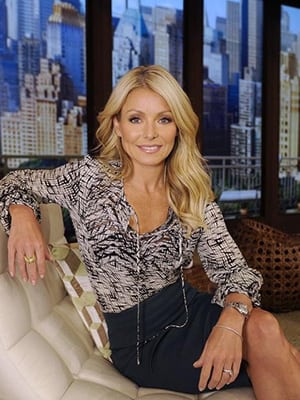 Leading the pack as she did previously, Kelly Ripa tops the list of stars with a soap opera connection as the host of the daytime talk show. "Live with Kelly and Michael." According to TV Guide, the former "All My Children" star rakes in an estimated salary of $14-20 million* per year, with the asterisk referencing her having profit participation in her syndicated talk show. Meanwhile, "NCIS" star Mark Harmon generates an estimated $525,000 per episode and is the highest paid actor (scripted). Harmon also receives profit participation in the show as he's one of its executive producers. Harmon starred in the short lived 1980′s primetime soap "Flamingo Road," which preceded his groundbreaking role in "St. Elsewhere." He increased his episode pay by $25,000 since our 2012 report. "House of Cards" star Kevin Spacey is the only other actor starring in a scripted series receiving $500,000 or more per episode. He receives $500,000 per episode with a producer fee tacked on from the Netflix series.
"The Mentalist's" Simon Baker went from Australian soap "Home and Away" to banking $350,000 an episode for his role on the CBS crime drama. "Grey's Anatomy's" Ellen Pompeo and Patrick Dempsey also continue taking in $350,000 per episode as they did in 2012, followed by David Boreanaz at $250,000 for his role on "Bones." Harmon's "NCIS" co-star Michael Weatherly went from "Loving" in the 1990′s to a federal agent as he also joins the $250,000 per episode club after more than 10 seasons on the hit CBS drama series. His per episode bank went up a cool $75,000 since 2012.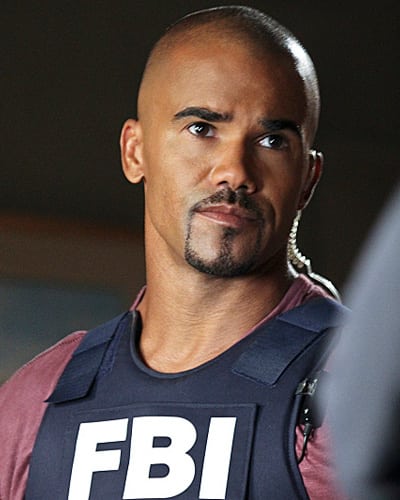 Before heading up The CW's "Supernatural," actor Jensen Ackles had the hearts melting on NBC's "Days of our Lives" back in the day. He's making $175,000 an episode off the primetime series, which is the same amount Shemar Moore is taking in for his role on "Criminal Minds." Moore returns to CBS' "The Young and the Restless" for a two episode stint beginning Wednesday, September 10.
$150,000 an episode sure sounds like a good enough reason for Katherine Heigl to rethink her stance on television after previously starring on "Grey's" and The WB's "Roswell." The former on screen doctor is taking in that amount with a producer credit alongside it for her role in NBC's "State of Affairs." The $150,000 figure is the same Kerry Washington is reportedly raking in for her starring role in the hot primetime series, "Scandal." That's double what Washington was making just two years ago.
As he prepares for the launch of FOX's "Gotham," former "One Life to Live" star Jesse L. Martin will be enjoying his $100,000 per episode payday, the same amount former "Grey's" star Eric Dane is said to be making for his starring role on TNT's "The Last Ship."
Lastly, Susan Lucci's $30,000 per episode take from her role on "Devious Maids" is a far cry from her reported $1 million annual salary on "All My Children." Although with just 13 episodes each season, "Maids" is paying off for the star who gets to work a little bit less following the ABC soaps cancellation in 2011. Lucci recently listed her Hamptons property for a cool $20 million.
What follows is the complete list of salaries of stars with soap opera connections: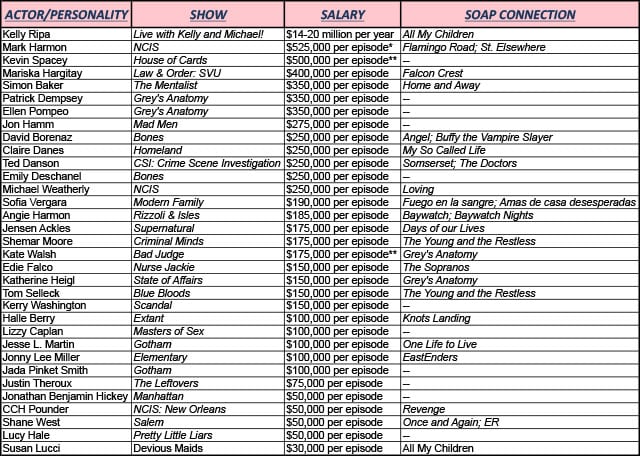 *includes profit participation
**includes producer fee
To see who else is making bank and how much bank that is, click here.