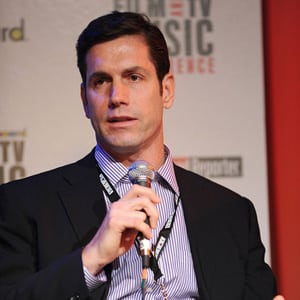 (SoapOperaNetwork.com) — After recently signing four of "One Life to Live's" most prominent cast members, including long-time veteran Erika Slezak (Viki) to continue with the show when it moves to online-only distribution early next year, Prospect Park takes the next step in their commitment to make for a smooth transition for the show. According to Deadline Hollywood, the production company has hired "One Life" Executive Producer Frank Valentini to remain in his current post with the show, along with becoming Vice President of Serial Dramas.
"Frank's successful track record both creatively and producorially with 'One Life to Live' has been stellar and we are honored that he has also agreed to take on more responsibilities at our new network," states Prospect Park executives Jeff Kwatinetz and Rich Frank, whom Valentini will work closely with in his VP capacity to help relauch "OLTL" and sister soap "All My Children" with the company after each leaves ABC.
Serving as "One Life" Executive Producer since 2006, Valentini is known for running a tight ship and helping keep the show regularly under budget. He has also served as producer, director, stage manager, and music composer for the soap. And in 2010 he directed ABC.com's "What If…" series, where characters from "All My Children," "One Life to Live," and "General Hospital" met one another in a series of short webisodes.
Valentini expressed his excitement in remaining with the show, saying "I am thrilled to join the Prospect Park team continuing my role as the Executive Producer of 'One Life to Live.' As we enter this new chapter, I must extend a very big, heartfelt thank you to the show's creator Agnes Nixon who has always been generous with her support of our vision of her creation, ABC for affording me an incomparable experience for the past 26 years at 'One Life to Live' and the fans with their unwavering passion determined not to let their shows go away. The cast and crew is my family and I am very proud to have this opportunity to continue working with this talented and dedicated team. And finally, I must extend a huge thanks to Rich Frank and Jeff Kwatinetz of Prospect Park whose pioneering innovation is giving us more life to live."
With Valentini staying on with "OLTL," fans may be wondering where this leaves the show's current Head Writer Ron Carlvati. After it was announced earlier this year that he would be joining the writing staff of "General Hospital" after "OLTL" finishes its network run, and ABC spokesperson would only tell Soap Opera Network last month that plans for Carlivati's move to "GH" are still in place "as far as [they] know." You may recall it was announced in September 2010 that both Valentini and Carlivati had been signed to new long-term contracts with ABC for two and three years, respectively.
After wrapping production on its television run in November, "One Life to Live" is scheduled to broadcast its final episode on ABC on Friday, January 13, 2012.