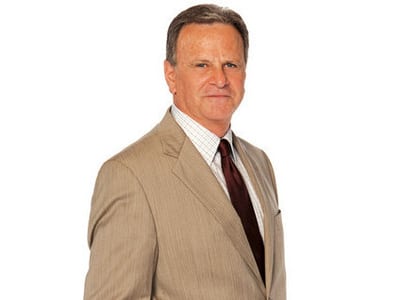 (SoapOperaNetwork.com) — "One Life to Live's" Robert S. Woods (Bo) will be among those honored at HeartShare Human Services of New York's Annual Spring Gala on Thursday, March 24.  Woods will be honored withThe Linda Dano Heart Award for his support of the organization, which is "dedicated to improving the lives of people in need of special services and support."
The award is named after actress Linda Dano (ex-Rae, "OLTL"), who serves on the HeartShare Board of Directors and presents the honor on an annual basis to an individual or group in the entertainment industry who "exemplifies a commitment to improving the lives of children," states a press release.  Previous recipients of the award include Cameron Mathison and Susan Lucci from "All My Children," along with the cast and crew of "As the World Turns," "One Life to Live," and "The View."
Woods will be among four individuals recognized for their support and contributions.  The others include Mark C. Healy, President and CEO of the American Stock Transfer & Trust Company, LLC., who will receive The Monsignor Thomas G. Hagerty Humanitarian Award; Vincent Theurer, Sr., President of the Approved Oil Company of Brooklyn, who is the recipient of The George A. Cincotta Community Development Award; and Lorraine M. Tazzo, President of The Genie Foundation, who will be presented with The HeartShare Genie Foundation Award.
Scheduled to attend from "One Life to Live," in addition to Woods and Dano, include Eddie Alderson (Matthew), Kristen Alderson (Starr), Farah Fath (Gigi), David Fumero (Cristian), Susan Haskell (Marty), John-Paul Lavoisier (Rex), Mark Lawson (Brody), Sean Ringgold (Shaun), and Hillary B. Smith (Nora), as well as former cast member Billy Warlock (ex-Ross), and novelist Peter Straub (who has appeared on "OLTL" several times).  Other soap stars in attendance include Julie Pinson Warlock (ex-Janet, "As the World Turns") and Thorsten Kaye (Ex-Zach, "All My Children").  For a listing of other television, radio, and entertainment personalities attending, click here.
The 2011 HeartShare Spring Gala and Auction will be held on Thursday, March 24, at the New York Marriott Marquis in New York City.  Cocktails and the silent auction begin at 5:30 pm ET, with the dinner to follow at 7:00 pm ET.  For more information, call (718) 422-3210, email [email protected], or click here.  And to learn more about HeartShare, please visit their website.