Sunday, July 26, 2009 3:27 PM PT |
By Errol Lewis
---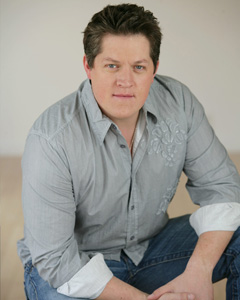 (SoapOperaNetwork.com) — Derk Cheetwood portrays Max Giambetti on ABC's "General Hospital," and is the older brother of Drew Cheetwood, who plays his on-screen brother Milo Giambetti, but did you know that he loves his Twitter and is ready to start auditioning again?
Before Twitter became a big mass media tool, Derk created an account where he could catch up with his friends and family and let them know what he was up to. A typical tweet could be something as simple as "Swinging at the bank trying to close an account. Fun, fun, fun!" Now the actor has over 900 followers, mostly his fans, who have come far and away just to catch up with their favorite actor. Who can we thank? One Sarah Brown (Claudia Zacchara).
"She [finally] saw that I was on Twitter, and she was like 'Oh, you're own Twitter?' and I was like 'yeah,' she's like 'I'll tell everyone you're on Twitter and it's really you' and the next week I had 300 or 400 people sign up," said Cheetwood. "I was like wow, 'you've got pull man. You're crazy.'"
Prior to joining the cast of "GH" in 2002, Cheetwood has had a extensive acting career in both film and television. He got his big break in 1995 after appearing in an episode of "Brotherly Love" starring the Lawrence Brothers (Joseph, Matthew and Andrew). In 1996, he guest-starred in episodes of FOX's "Beverly Hills, 90210" and NBC's "Something So Right." He would later appear in episodes of "Jag," "Ally McBeal," "CSI: Crime Scene Investigation," "Medium" and "Desperate Housewives."
Did you know? Derk appeared opposite Kevin Costner in the 1997 film "The Postman." Cheetwood later married Cari Costner, Kevin's niece, in August 2006. The two have a daughter, Kylie Danielle, who is a year-and-a-half old. In 2000, he starred along-side Matthew McConaughey in the film "U-571." A year later he again starred opposite McConaughey in "Frailty," which finds Cheetwood as FBI Agent Griffin Hull hot on the trail of a serial killer.
In case you were wondering what he's been up to, acting wise, Cheetwood says "nothing right now." Since the birth of his child in January 2008, he's been "chilling for a bit." Though don't be surprised to see the actor venturing into new territories in the future as he's ready to get back out there auditioning. "I just signed with an agent," he says.
"General Hospital" airs Weekdays on ABC. Weeknights on SOAPnet. Check local listings.
---
Discussion: One Time at Fan Camp: Derk Cheetwood

---
SOAPnet
ABC
ABC.com
General Hospital
Beverly Hills
90210
GH
CSI: Crime Scene Investigation
CSI
Derk Cheetwood
Cari Costner
Drew Cheetwood
Jag
Medium
Twitter
Desperate Housewives
Kevin Costner
Matthew McConaughey
Joey Lawrence
Matthew Lawrence
Andrew Lawrence
Max Giambetti
Milo Giambetti
U-571
Brotherly Love
Ally McBeal
Something So Right
Frailty